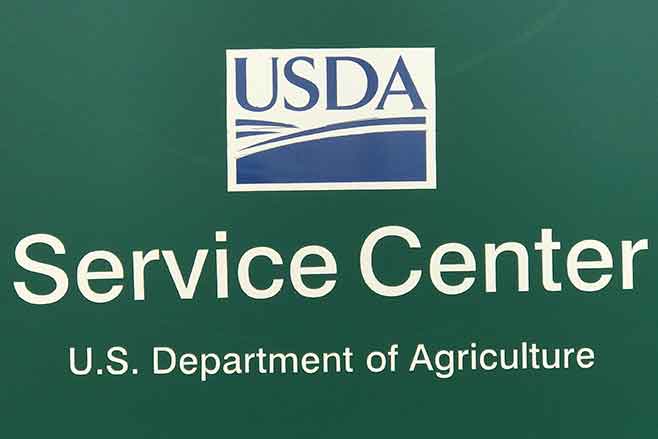 Published
Tuesday, November 5, 2019
IMPORTANT DATES TO REMEMBER:
ARCPLC Producer Meetings - Various locations throughout Colorado. November 8 - 2 meetings - Lamar - 10:00 a.m. @ LCC Bowman Room 139 Rocky Ford @ Fairgrounds Event Center - 3:00 p.m.
CRP Meeting - November 13 - Las Animas - Call Cathy at 719-543-1324 - RSVP REQUIRED
Farm Loan personnel in Eads Office - 2nd Tuesday every month
2019 Market Facilitation Program - Deadline to apply December 6, 2019 - Call and schedule your appointment!
2019 & 2020 - ARCPLC signup - Begins October 1st
2020 Acreage Reporting Deadline - November 15, 2019 Wheat, perennial grasses and alfalfa
Disclaimer: Information in this UPDATE is pertinent to Kiowa County FSA only. Producers reading this and that do not have FSA interest in Kiowa County are advised to contact their local FSA Office.
SERVICE CENTER CLOSED
The USDA Service Center will be closed Monday, November 11, in observance of Veteran's Day. Below is a short poem honoring all veterans, author unknown. We thank you for your service and sacrifice.
On Veterans Day we honor all,

who answered to a service call.

Soldiers young, and soldiers old,

fought for freedom, brave and bold.

Some have lived, while other died,

and all of them deserve our pride.

We're proud of all the soldiers who,

Kept thinking of red, white and blue.

They fought for us and all our rights,

They fought for us and all our rights,

They fought through many days and nights

And though we may not know each name,

We thank all veterans just the same.
CRP ANNUAL CERTIFICATION
Beginning in 2017, once the CRP was certified, a CRP acreage report was considered certified until the producer notified the County Office of any change to the certification on file, the CRP contract expired, or the CRP contract was terminated.
FSA Offices received notification last week that for 2020 and future years, an annual acreage report of all CRP acreage is required. A one-time continuous certification of CRP acreage is not authorized. The annual acreage report of CRP acreage is required before CRP annual rental payments can be issued.
FSA OFFICE
Beginning the week of November 18 through the end of November, the FSA Office will have only one employee working in the office. We ask that producers plan accordingly and be patient.
Also, a reminder that on Friday's, the office is limited on staff and we reserve that day to catch-up on work that we haven't been able to complete during that week. We ask that producers respect the fact that the office doesn't require appointments, and Monday - Thursday, we are accommodating to your business.
ARCPLC MEETING
Local producers need to make every effort to attend one of the 2018 Farm Bill meetings in Lamar or Rocky Ford this Friday, November 8th. The office staff continually is fielding questions regarding the ARC-PLC program and which one is better. The employees are prohibited from encouraging one program over the other. It's the producers' responsibility to become educated on the programs and the options available. The locations and times of the meetings in this area are above in "Important dates to remember" section.
We encourage producers to visit website Farmers.gov for information concerning ARC-PLC programs and other programs available through USDA.
CRP MEETING
There is also a deadline this week to RSVP for the CRP meeting to be held in Las Animas Wednesday, November 13 in Las Animas from 1:00-3:00 p.m. at the Heritage Center (building located on the NE corner of the stop light in Las Animas). This will be a meeting that any producer with CRP won't want to miss. Call Cathy at 719-543-1324 - RSVP REQUIRED