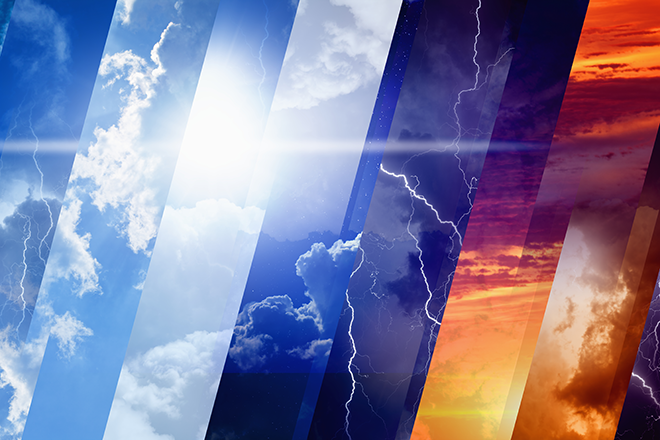 Published
Friday, October 20, 2017
Friday afternoon will be windy but warm ahead of cold air that will flow across Colorado and drop temperatures significantly Saturday
Eastern Plains
Friday afternoon will be breezy across the eastern half of the state, with west winds in the 15 to 30 mile per hour range. Temperatures will be in the upper 70s to low 80s under mostly sunny skies, while the lower Arkansas valley will see mid-80s.
Overnight Friday, a cold front slips into the state. Though no precipitation is expected, Saturday's temperatures will be 20 to 25 degrees cooler than Friday.
Highs will rebound Sunday, reaching the upper 60s to low 70s, and pick up another few degree Monday.
West Slope
A wind advisory is in effect for northwest Colorado until 8:00 p.m. Friday. Winds will be out of the southwest at 20 to 30 miles per hour, with gusts between 45 and 50 mph - potentially reaching 60 mph over Douglas Pass. Rain will be possible overnight which may turn to snow further north.
Friday's highs will be in the upper 60s to low 70s before falling to the 40s and 50s Saturday as cooler air moves into the area Friday night into the early hours of Saturday morning.
Temperatures will jump 10 to 15 degrees Sunday to the upper 50s to low 60s, and remain in that range for most of the west through the middle of the week.
Overnight lows for the coming days will range from the mid-20s to mid-30s.
Weather information updated throughout the day can be found at http://KiowaCountyPress.net/weather
Forecast - October 20 - 23

Friday

Saturday

Sunday

Monday

City

High

Low

High

Low

High

Low

High

Low

Eads

83

44

59

30

69

39

72

35

Springfield

81

48

61

32

70

42

75

38

Trinidad

77

44

55

30

69

40

72

35

Limon

79

37

55

26

67

36

68

31

Sterling

82

42

59

32

72

43

66

34

Fort Morgan

82

41

59

30

70

40

69

34

Craig

69

27

44

26

58

32

62

29

Grand Junction

75

34

52

30

62

35

67

36

Montrose

71

34

48

28

60

34

66

34

Cortez

71

33

53

26

64

31

70

34