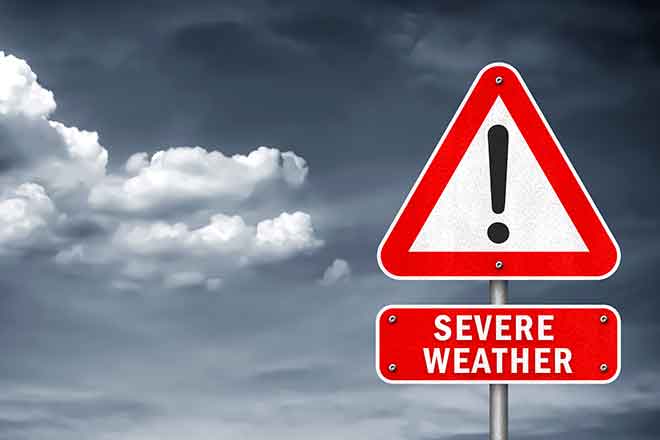 Published
Sunday, July 12, 2020
UPDATE: potential hail size haz been increased from golf ball to tennis ball size.
Tennis ball size hail, wind gusts to 70 miles per hour and tornadoes are possible over eastern Colorado Sunday afternoon into the evening. The latest update expands the area at greatest risk from earlier forecasts.
The National Weather Service's Storm Prediction Center in Norman, Oklahoma, has placed southeast and east central Colorado in a slight risk for severe thunderstorms. Scattered severe storms are possible, though they are expected to be short-lived with the potential for some isolated intense storms.
The slight risk area extends into New Mexico, Kansas, and the Oklahoma and Texas panhandles. Colorado counties in the risk area included all or portions of Washington, Yuma, Elbert, Lincoln, Kit Carson, El Paso, Cheyenne, Pueblo, Crowley, Kiowa, Pueblo, Huerfano, Otero, Bent, Prowers, Las Animas and Baca.
Rain is greatly needed in the drought-stricken part of the state.
Hail two-and-a-half inches in diameter or larger is possible for Baca, Prowers, Bent, Kiowa, and Cheyenne counties, along with portions of Kit Carson, Lincoln, Crowley, Otero, and Las Animas counties. Smaller hail - up to one inch - could fall across other parts of eastern Colorado.
The NWS also shows a somewhat limited risk for weak tornadoes for much of the southeast and east central parts of the state, extending into the Oklahoma panhandle and northeast New Mexico.
Storms are expected to begin forming over the higher elevations and Colorado's Front Range by late morning to mid-afternoon, expanding across the area east of Interstate 25 later in the day into the evening.
The Colorado Water Conservation Board is predicting a low risk for flash flooding across the southeast portion of the state from Sunday's storms. CWCB expects the maximum one-hour rainfall rates to remain just under two inches. The flood risk is expected to be greatest between 4:00 and 11:00 p.m.
High temperatures in the 90s are predicted for most of the eastern plains.
The chance for severe thunderstorms is predicted to continue into Tuesday.