Image
Warmest Christmas ever? Sweltering month in the Plains to continue
(AccuWeather) This Christmas could be the warmest in more than 50 or even 100 years for parts of the south-central United States, and AccuWeather forecasters say several cities are tracking toward experiencing their warmest December on record.
"Dallas, Houston, Oklahoma City and Tulsa, Oklahoma, Little Rock, Arkansas, and Memphis, Tennessee, all stand to match or top the record high for Dec. 25. this Saturday," AccuWeather Senior Meteorologist Brett Anderson said, adding that highs in the 70s and 80s F, which will be common for much of the south-central region, are more typical of early to mid-October.
In Memphis and Tulsa, record highs that date back more than a century or nearly a century could be challenged. The record high for Dec. 25 in Memphis is 76 from 1889. In Tulsa, the record temperature is 73 from 1922.
Image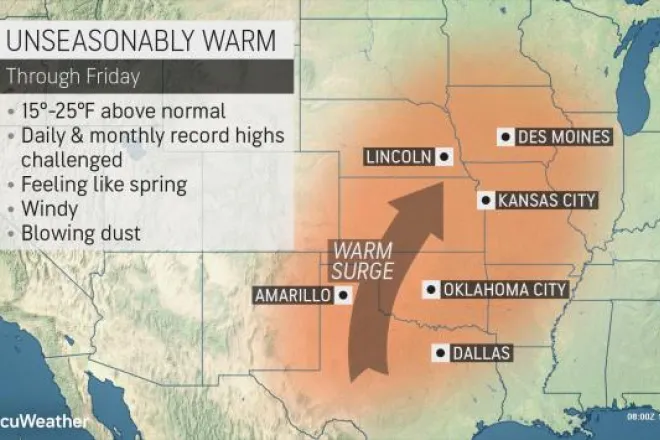 AccuWeather is projecting a high of 84 in Houston and 81 in Dallas on Saturday, which could set new daily records for Christmas Day in both cities. Houston's current record of 83 was set back in 2015 and Dallas' record of 80 was established in 2016.
AccuWeather forecasters are also predicting a high of 76 on Christmas Day in Little Rock, Arkansas, which has a Christmas record high of 73, but that mark has not been threatened since 1942. Oklahoma City may come within striking distance of its record high of 73 set in 2016.
Gusty winds will accompany the Christmastime warmth and could be more than an annoyance for those planning on taking advantage and spending time outdoors. The winds from the south, southwest and west are forecast to average 15-30 mph with higher gusts up to 40-60 mph that can raise the risk of brush fires igniting then quickly spreading over parts of the central and southern Plains.
Image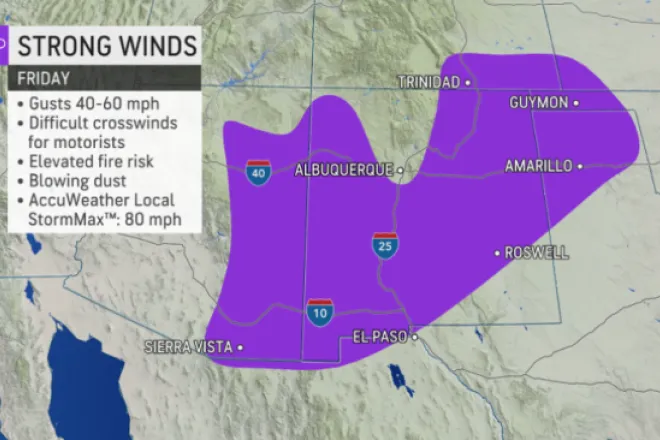 Forecasters say those planning to use outdoor grills, barbecue pits and any open flames should do so with caution. In some cases, winds can be strong enough to kick up dust in parts of Kansas, Oklahoma, Texas, Colorado and New Mexico.
While the magnitude of the wind and blowing dust will fall well short of the dust storm from last week, travel conditions could be tricky in open areas at times.
It has already been an unusually warm month for much of the central and southern Plains as well as in adjacent areas from the Rockies to the Mississippi Valley this December.
Temperature departures of 5-10 degrees from the average for a stretch of a few days are not uncommon, but pronounced departures of 10 or even 12 degrees over longer periods are exceptional and when these types of departures from the norm extend across an entire month, it's downright rare. 
A northward bulge in the jet stream has been responsible for the warm weather and has persisted much of the month, but the jet stream will begin to shift to the south again next week. Still, that probably will not bring enough cool air to avoid the warmest December on record from unfolding in many locations over the south-central region, forecasters say.
In Dallas, the first 23 days of December have run 10.3 degrees above the monthly normal of 49.0 degrees. At the current pace, the all-time monthly December record of 53.6 degrees is in jeopardy of being broken, if not shattered, AccuWeather Meteorologist Randy Adkins said. As of Dec. 23, the average temperature this month in Dallas was at 59.3 degrees.
There is a long list of cities over the Central states that could exceed their warmest December on record, and like Dallas, the mark may be topped by several degrees.
Image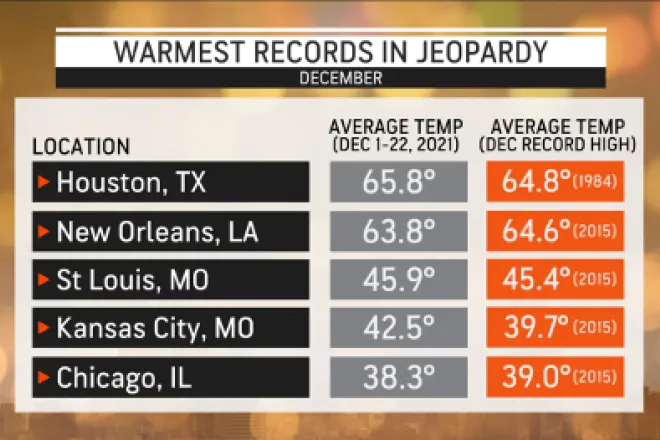 Come the end of the month, the map could be peppered with cities that finish 5 degrees, or more, above average and make a run at their warmest December on record. Chicago, St. Louis and Kansas City, Missouri; and Nashville and Memphis, Tennessee; could all challenge records. Oklahoma City; Omaha, Nebraska; Des Moines, Iowa, and Denver could as well. And places to the south, like Austin and San Antonio, Texas; and New Orleans and Shreveport, Louisiana; are on tap to finish with an unusually warm December.
While some of the more northern locations -- such as Chicago, Denver and Omaha -- may miss the December all-time high mark due to a bit of chilly air later this month, this month will still likely go down as one of the top five warmest Decembers for each of those locations. 
Image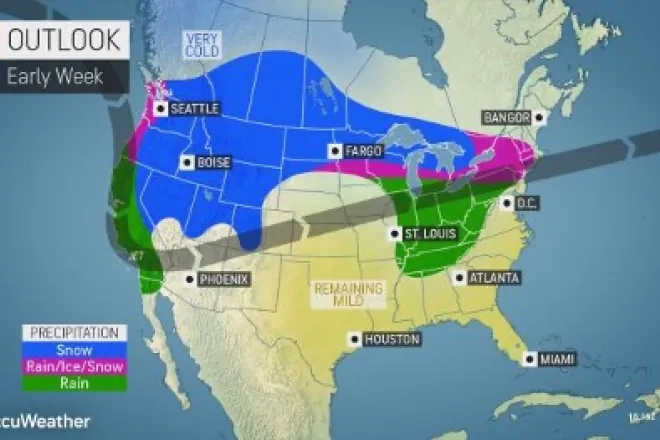 The recent pattern has limited cold air from Canada from penetrating very far to the south and contributed to two major outbreaks of severe weather, including the deadly tornadoes the night of Friday, Dec. 10 that ravaged the middle Mississippi, Tennessee and lower Ohio valleys.
Also contributing to the warm trend has been the lack of moisture in the soil across the region, much of which is experiencing abnormally dry or extreme drought conditions. Even though the sun's rays are rather weak during December, minimal moisture in the ground means a larger share of the sun's energy heats the atmosphere closest to the ground since little is spent on evaporation.
The persistent convoluted jet stream has allowed storm after storm to drop southward along the Pacific Coast. These storms have unleashed rounds of drenching rain and feet of mountain snow from Washington to California so far this December with the pattern likely to continue through the end of the month.
Any dips in temperature over the South Central states into the final days of December are not likely to last long. Temperatures may return to near average during the last day or two of December in part of the region. For example, Dallas is projected to have a high close to the average of 56. High temperatures within a few degrees of average have been rare and only occurred on a handful of days so far this month.