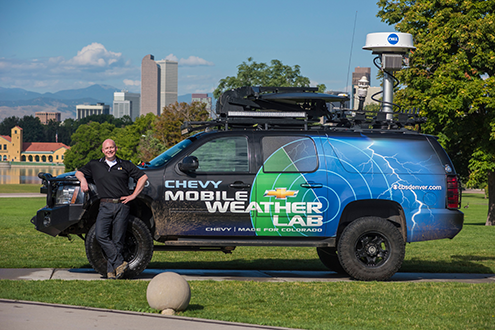 Published
Saturday, September 17, 2016
CBS4, KCNC-TV--Denver announced that it is the first television station to have a dedicated team of three evening

weather forecasters on CBS4 News at 5 p.m., CBS4 News at 6 p.m., CBS4 News at 6:30 p.m. and CBS4 News at 10 p.m., with an additional two meteorologists rounding out the weekly coverage.
Meteorologist Lauren Whitney is moving to nights, joining veteran forecaster Ed Greene, and meteorologist Chris Spears will report nightly live from the Chevy Mobile Weather Lab. Ashton Altieri will replace Lauren Whitney as the weather anchor on the CBS4 Morning News and CBS4 News at Noon weekdays beginning in early October. Meteorologist Dave Aguilera rounds out the new weather team providing weekend weather coverage and weekly visits with future Junior Weather Watchers at schools throughout the greater Denver area.
"These changes to our weather team give us an opportunity to provide Colorado with the most up-to-date forecasts from our studio and live from the field, wherever the weather is happening," CBS4 General Manager Walt DeHaven said. "Our team is one of the most seasoned with a combined 77 years of experience forecasting Colorado's unpredictable weather."
Ed Greene is the senior member of the CBS4 weather team and has been a Denver TV Newscaster for nearly 40 years. Meteorologist Lauren joined CBS4 as the weather anchor of CBS4 Morning News and CBS4 News at Noon in 2011.
Chris Spears has been a CBS4 meteorologist since March 2014. Meteorologist Dave Aguilera has forecasted weather for CBS4 since 1993 and helps connect kids who are excited about weather to the CBS4 Junior Weather Watchers team. Ashton Altieri joins the CBS4 weather team in October 2016.
For more information, visit www.cbsdenver.com.
Photo: Evan Semon