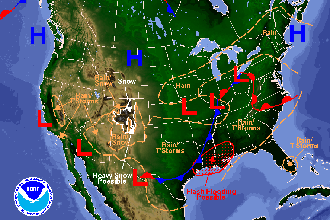 Published
Sunday, May 1, 2016
By Chris Sorensen
After a few weeks of cooler temperatures, rain, and even some late-season snow last Friday, temperatures will begin climbing to levels more like spring by the middle of the week.
First, a few more days of cooler temperatures start the week. Sunday's high will be in the upper 40s with a chance of afternoon showers continuing into the evening. Look for north winds 15-25 miles per hour and an overnight low near freezing.
Monday and Tuesday's highs will be in the mid-50s to mid-60s, with overnight lows in the 30s.
By Wednesday, the warmer, drier trend becomes apparent, with daytime highs in the mid- to upper 70s continuing at least through Saturday, and overnight lows in the 40s.
For the weekend, keep an eye on a new closed low moving on shore from the Pacific. It is too early for details, however there could be a chance of showers in some areas.