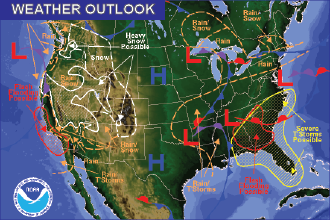 Published
Sunday, January 22, 2017
By Chris Sorensen
A hint of rain returns to the forecast this week to potentially help further improve drought conditions.
Sunday starts off sunny for the eastern plains, with a high in the mid-40s before dropping to near 20 overnight.
Colorado's mountains will see another wind-driven snow event starting Sunday evening, continuing to Tuesday morning. Southern mountains could see ten to 20 additional inches of snow, and wind gusts to 55 miles-per-hour. Mountain passes are likely to be slick and snow-packed.
Mostly sunny skies return Monday for the warmest day of the week as the temperature reaches the low 50s and falls to the upper 20s overnight.
A chance of rain is in store for Tuesday, along with north wind in the 15 to 20 mph range. The high will be in the upper 30s, dropping to the upper teens at night.
Wednesday through Friday will see daytime temperatures mainly in the 30s, and overnight lows in the mid- to upper teens.
KiowaCountyPress.net now offers a free forecast update emailed to you each morning around 6:00 a.m. To begin receiving forecast updates, send an email to kiowacountypressweather+subscribe@googlegroups.com for quick signup process. Then, just reply to the message sent back to you to confirm your email address, and you're done! You'll start receiving the weather forecast the next morning. There's no cost, and you can unsubscribe any time.