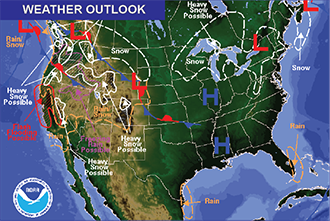 Published
Sunday, January 8, 2017
After a week of mostly sub-freezing temperatures, the coming week will be much warmer - but it may not last.
Sunday's predicted high in the mid-40s marks the first time the temperature has been above freezing since last Tuesday. The overnight low will fall to the lower 20s.
An unseasonably warm Monday is expected to have a high approaching 60 before falling to the upper 20s overnight.
Temperatures gradually fall off Tuesday and Wednesday as the high reaches the low 50s and overnight lows dip to the low 20s.
The decline in temperature continues Thursday as the high reaches the mid-40s and a hint of snow enters the forecast overnight. The potential for snow continues Friday as the high barely reaches above freezing. Overnight lows will be in the teens for the latter part of the week.
KiowaCountyPress.net now offers a free forecast update emailed to you each morning around 6:00 a.m. To begin receiving forecast updates, send an email to kiowacountypressweather+subscribe@googlegroups.com for quick signup process. Then, just reply to the message sent back to you to confirm your email address, and you're done! You'll start receiving the weather forecast the next morning. There's no cost, and you can unsubscribe any time.