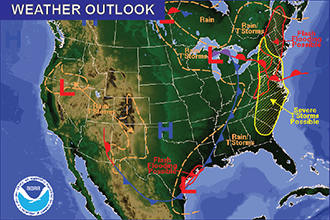 Published
Sunday, June 5, 2016
By Chris Sorensen
Chances of thunderstorms return to Kiowa County for the early part of the week, with the best possibilities occurring Monday afternoon, increasing during the evening up to midnight, and returning with slightly lower risk Tuesday afternoon into the late evening. A slight chance of afternoon and evening showers and continues through Thursday.
Where showers do occur, less than one-tenth of an inch of rain is expected. Higher amounts are possible with thunderstorms.
Look for mid-80s as high temperatures Sunday through Tuesday, and lower 90s Wednesday into the weekend. Overnight lows will be in the mid- to upper 50s throughout the week. Winds will generally be in the 5-15 mile per hour range, though thunderstorms that develop may produce stronger gusts.