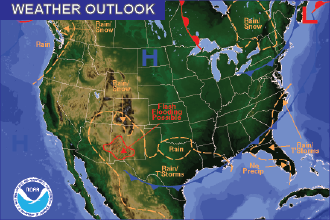 Published
Friday, November 4, 2016
By Chris Sorensen
This weekend will cool slightly from an above-average week, and a chance of rain returns.
Friday will be mostly sunny, with a high in the low 70s and an overnight low in the upper 30s.
A 30 percent chance of showers enters the forecast Saturday afternoon into the evening. The mostly cloudy day will be marked by a high in the mid-60s and overnight low in the mid-40s as a weakening upper low moves over the state throughout the day. The best chance of rain will be south of Highway 50.
A slight chance of rain continues Sunday before noon, with an afternoon high in the upper 60s, falling to the upper 30s.
Unseasonably warm upper 60s will continue into the week ahead. Overnight lows will range across the 30s, with freezing nighttime temperatures occurring by the middle of the week.