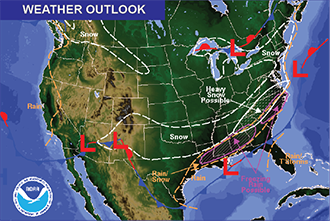 Published
Friday, January 6, 2017
After snow fell across much of the state between Wednesday and Thursday evenings, colder temperatures are hanging on longer than anticipated earlier this the week, and may not rise above the freezing mark until Sunday.
Friday will start off cloudy, gradually clearing through the morning. The high will approach 20 before falling below zero overnight. Wind chill will range from 5 to -5 through the day, falling to -5 to -15 overnight.
Saturday's high is expected to stay just below freezing before returning to single digits overnight.
Sunday starts a warming trend as temperatures reach the mid-40s, falling back to the low 20s overnight.
While partly to mostly cloudy skies are expected through Wednesday, daytime highs will be around 50 and continue Thursday under mostly sunny conditions.
If you are planning a trip to the mountains and southwest Colorado, be alert to the potential for avalanches. The recent storm has added a substantial amount of new snow on top of weaker layers of the snowpack. An avalanche warning will be in effect until 10:00 a.m. Friday, and the Colorado Department of Transportation has been conducting mitigation work along portions of numerous mountain routes.
KiowaCountyPress.net now offers a free forecast update emailed to you each morning around 6:00 a.m. To start, send an email to kiowacountypressweather+subscribe@googlegroups.com for quick signup process. Then, just reply to the message sent back to you to confirm your email address, and you're done! You'll start receiving the weather forecast the next morning. There's no cost, and you can unsubscribe any time.