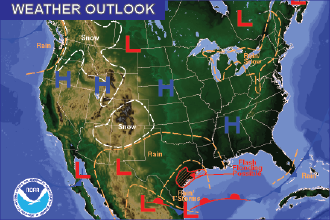 Published
Friday, December 2, 2016
By Chris Sorensen
The start of December is hinting at more frequent prospects of snow.
There is a slight possibility of snow after 4:00 p.m. Friday, increasing overnight before 4:00 a.m. as an upper-level disturbance moves into Colorado late in the day. While the mountains are expected to see one to three inches of snow, little accumulation is expected across the plains. The daytime high will be in the lower 40s, with an overnight low near 20. Look for mostly cloudy skies throughout the day.
Low 40s return for a mostly sunny, dry Saturday before dipping to the mid-teens at night.
A slight warmup takes hold Sunday and Monday as temperatures move slightly above normal to approach 50 during the day and drop to around 20 at night.
Cold and prospects of snow return Tuesday as the high reaches only to the upper 20s. The chance of snow increases overnight as the temperature plunges to single digits. Forecast models are not in good agreement about the chances of snow - check back for an update Sunday morning.
The daytime high remains below freezing Wednesday, with the temperature returning to the single digits at night.
KiowaCountyPress.net now offers a free forecast update emailed to you each morning around 6:00 a.m. To start, send an email to kiowacountypressweather+subscribe@googlegroups.com for quick signup process. Then, just reply to the message sent back to you to confirm your email address, and you're done! You'll start receiving the weather forecast the next morning.