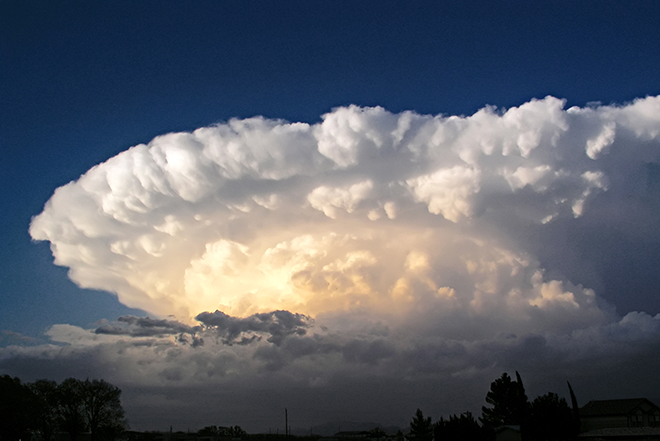 Published
Friday, September 7, 2018
"Fair weather" takes on a welcome meaning in Kiowa County through Sunday as temperatures remain pleasant, with just a hint of fall in the air.
Friday, the high temperature is expected to reach the mid-70s before dropping to the mid-50s overnight. Skies will be mostly cloudy through the day, with a 30 percent chance of showers and thunderstorms, mainly in the late afternoon following the day's rodeo performance and before evening activities get underway. Less than one-tenth of an inch of rain is expected where showers do occur, however higher amounts are possible if thunderstorms develop. East winds in the 5-10 mile per hour range are expected.
Mid-70s return Saturday under mostly sunny skies, returning to the mid-50s overnight as cloud cover increases. Wind shifts to the southeast around 10 mph throughout the day into the night. Rain is not expected. Can't get to the fair parade on Maine Street in Eads Saturday morning? We'll be streaming it live for your enjoyment.
Sunday warms slightly, with highs reaching the low 80s as mostly sunny skies return. Dry conditions are expected to continue. Wind will be out of the southeast at 5-10 mph. Overnight, the low returns to the mid-50s.
Looking ahead to the work week, temperature increases to the upper 80s and low 90s are predicted through at least Thursday, with wind expected to continue out of the southeast in the 5-15 mph range. Overnight, mid-50s will be the rule.
Weather information updated around the clock can be found at http://weather.KiowaCountyPress.net. This week's drought update is showing some improvements for the southeast. Read more here.
Temperature Forecast - September 7-10

Friday

Saturday

Sunday

Monday

City

High

Low

High

Low

High

Low

High

Low

Haswell

73

52

76

53

83

55

87

56

Eads

74

54

76

54

81

55

87

57

Sheridan Lake

74

55

74

54

78

54

85

56