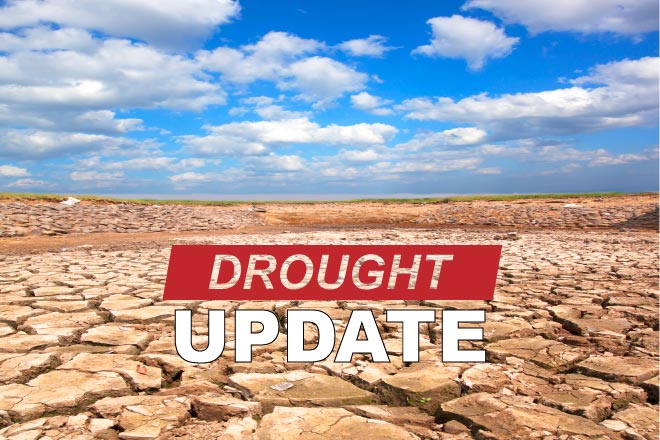 Published
Thursday, September 6, 2018
Drought conditions continued to improve across a large part of Baca County, and portions of Prowers, eastern Las Animas and the southeast corner of Bent County.
It was a different story for western Montrose and most of Ouray counties, where conditions continued to deteriorate. In both cases, exceptional drought - the worst category - overtook extreme conditions that had been in place for months.
In the southeast, the eastern half of Baca County is now drought-free, with much of the remainder of the county listed as abnormally dry. The northwest and southwest corners are in moderate drought, while a sliver of the northwest remains in severe conditions after up to two inches of rain fell in some parts of the county.
Eastern Prowers county has also reached drought-free conditions, though much of the western one-third continues to experience severe drought. Southeast Bent and eastern Las Animas counties showed continuing improvements.
Overall, 20 percent of Colorado is drought-free, up one percent from the previous week, while abnormally dry conditions were unchanged at nine percent. Seven percent was in moderate drought, down one point from the prior week, while severe drought remained steady at 20 percent. Extreme conditions are impacting 35 percent of the state, down one percent, while exceptional drought expanded one point to 10 percent of Colorado's area. Nearly half of the state remains in the two worst categories of drought, while the northeast is drought-free.
One year ago, 67 percent of the state was free from drought, while 29 percent was abnormally dry. Moderate drought affected four percent of Colorado.
Drought categories include (ranked from least to most severe) abnormally dry, moderate, severe, extreme and exceptional drought.
Colorado Drought by the Numbers

Week

Date

None

D0

D1

D2

D3

D4

Current

9/4/18

20

9

7

20

35

10

Last Week

8/28/18

19

9

8

20

36

9

3 Months Ago

6/5/18

25

11

13

16

27

8

Start of Calendar Year

12/26/17

7

65

28

0

0

0

Start of Water Year

9/26/17

68

29

4

0

0

0

One Year Ago

9/5/17

67

29

4

0

0

0