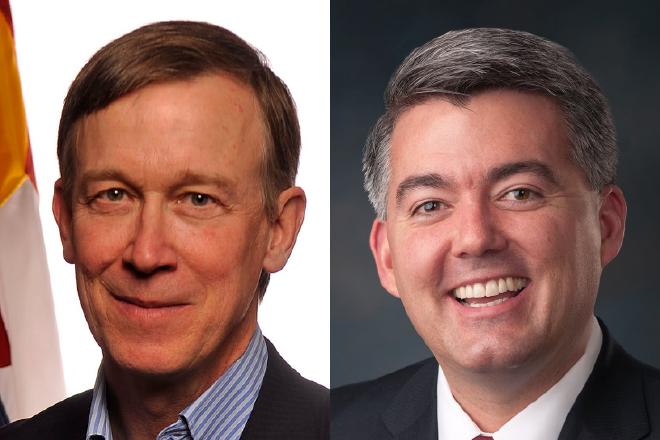 Published
Tuesday, November 3, 2020
(The Center Square) - John Hickenlooper has won Colorado's U.S. Senate seat Tuesday night, defeating incumbent Republican Cory Gardner, according to the Associated Press.
Hickenlooper currently leads with 54% of the vote compared to Gardner's 44%, according to unofficial early results from the Colorado Secretary of State's Office.
AP called the race at 7:42 p.m. Mountain Standard Time. The state's polls closed at 7 p.m. MST. Colorado voters may cast their ballots as long as they were in line before 7 p.m.
Gardner conceded the race in a speech Tuesday night, saying he congratulated Hickenlooper in a phone call and adding that "his success is Colorado's success, and our nation and our state need him to succeed."
Hickenlooper joins fellow Democrat Michael Bennet representing Colorado in the U.S. Senate.
"Serving you is the honor of my life, and I can't wait to be your Senator," Hickenlooper tweeted.
Colorado's Senate seat was a key race for Senate Republicans seeking to maintain a majority in the upper chamber. Several other Senate races have not yet been called, so it's unknown whether Senate Republicans will be successful in holding onto their slim majority, which stood at 53-47 heading into the election.
The former Colorado governor joined the Senate race in August after a failed bid to be the Democratic nominee for president. He beat Andrew Romanoff in the Democratic primary in June.
A state ethics commission found that Hickenlooper violated state ethics laws on two occasions while serving as governor of Colorado, which he had to answer for during the campaign.
Gardner, who was elected in 2014, trailed Hickenlooper in the polls for most of the race.
Gardner has been rated among the most bipartisan members of the Senate, and sponsored the Great American Outdoors Act and the National Suicide Hotline Designation Act. He also pushed for the U.S. Bureau of Land Management's relocation to Grand Junction from Washington, D.C.