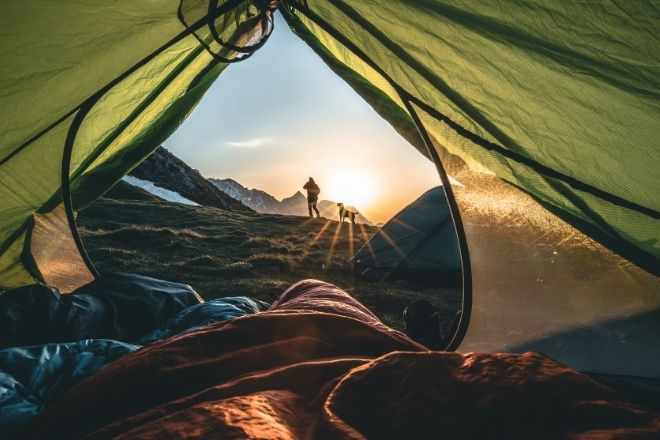 Published
Wednesday, February 3, 2021
Whether you're camping in your backyard or the great outdoors, alone or with family and friends, camping can be a fun, invigorating experience. You can sit around a campfire and roast marshmallows, take a hike through the wilderness, or even go fishing in a nearby lake. But if you're not ready for the trip, camping can turn from a relaxing, carefree experience to your worst nightmare. You might struggle with collapsing tents, burnt meals, invading bears, or navigating your way through the dark. Thankfully, you can avoid the hassle and skip right to the good stuff, as long as you follow these all-important tips you should know before you go camping.
Stock Up on Supplies
For a successful camping trip, you'll need to bring the right supplies. The amount -- and type -- of supplies you'll need depends on factors like your mode of transport, how much room you'll have, and the amount of time you'll be gone. If you're hiking to your campsite, keep your own strength in mind. If your limit is twenty pounds, don't pack a fifty-pound backpack. The absolute essentials fall into five categories: camping gear, kitchen gear, food, clothing and personal care, and first aid. You'll want to have shelter, a light source (both tools to start a fire and either a flashlight or headlamp), food, the supplies you'll need to cook it, clothing, toiletries, and medical supplies.
Dress for Success
Another tip you should know before you go camping is the dress code. Dressing for the wilderness is simple. You throw on shorts, a clean, loose-fitting shirt, a good pair of sneakers, and you're done... right? It's not that easy. You'll want to pick out clothes that are appropriate for the current weather conditions: moisture-wicking, breathable, and comfortable. They're not a necessity, but consider packing:
raingear
a sun hat
hiking boots
a swimsuit
There's nothing worse than being stuck in a forest feeling hot, sweaty, and miserable -- or, if you're camping in the winter, freezing cold.
Get a Good Night's Sleep
You don't want to neglect a good night's rest. Make sure to pack a tent, sleeping bag, sleeping pad, and a pillow. Comfort is important; you can rough it out without having to wake up with a crick in your neck. The size of the tent depends on how many people you're squeezing into it. You'll also want a weather-resistant tent in case it's raining, snowing, or windy. A lightweight three-season tent is great for spring, summer, and fall conditions. For a winter camping spree, a mountaineering tent might be better.