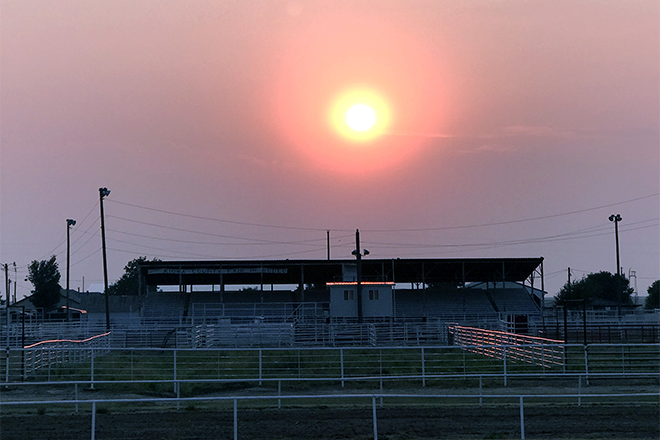 Published
Wednesday, September 22, 2021
Another Kiowa County Fair has come and gone, and our 4-H year is coming to an end. Overall, 4-H participation and Open Class entries were down, but the quality of work from Exhibits was exceptional! 4-H is for kids 8 to 18, but also provides a program called Cloverbuds for the younger kids ages 5 to 7. We are happy to explain how 4-H works and what projects we have to offer, just contact the Extension Office at 719-438-5321.
Let's not forget Fair Open Class. Our community has many talented individuals, and the fair is a great place to display your work. There are many classes to enter exhibits. If you aren't sure what can be displayed, contact the Kiowa County Extension Office, or ask a Kiowa County Fair Board member.
If you would like to volunteer for fair open class in 2022, we would be happy to have you! You can contact the Extension Office to sign up.
Lilly Abrams
Cake Decorating Unit Champion 1
State Fair Cake Decorating 3
Mandy Adamson
Garden 1091 Collective Gardening 2
Flower Arrangements 1181 Fairy Garden 1
Hobby 1392 Scrapbooking 1
Fancy Works 1635 Machine Embroidered Dish Towel 1
Fancy Work 1642 Other Doilies 1
Fancy Works 1646 Fabric Potholder 3
Fancy Works 1653 Other Pillows 2
Fancy Works 1656 Machine Embroidered Pillow Case 1
Fancy Works 1684 Decorated Sweatshirt 1
Fancy Works 1690 Other Baby Apparel 2
Fancy Works 1695 Fabric Stuffed Animal 1
Fancy Works 1717 Decorated Bath Towels 1
Fancy Works 1673 Place Mats1
Quilts 1811 Machine Quilted Mixed Technique 1
Quilts Champion Rosette
Quilts Judge's Choice Rosette
Bob Alfano
Art 1315 Watercolors Animals 1
Zoie Arnold-Kraft
Goat Class 3 3
Goat Int Showmanship 2
Beef ADG Res 2
Beef Class 3 2
Joyce Berry
Garden 1027 Red Onion 1
Garden 1033 Bermuda Onion 1
Garden 1043 Squash Butternut 1
Garden 1061 Tomatoes Table Use 1
Garden 1062 5 Green Tomatoes 2
Garden 1067 Green or Yellow Chili Peppers 2
Garden Reserve Grand Champion Rosette
Flowers 1162 Marigolds 3
Flowers 1164 Petunias 2
House Plants 1170 In Bloom 1
House Plant 1171 Non-Blooming 1
House Plant 1172 Cactus or Succulents 1
House Plant 1173 Hydroponics 1
House Plant 1174 Potted Arrangement 1
House Plants Champion Rosette
House Plants Res Champion Rosette
Arrangements 1184 Other 1
Arrangements 1185 Mini Under 3" 1
Arrangements 1186 Mini 3 To 6" 1
Arrangements 1187 Mini Other Than Fresh 1
Arrangements 1190 Dried 1
Arrangements 1192 Educational Exhibit 1
Flower Arrangements Champion Rosette
Vintage 1339 Garment 1
Vintage 1340 Article of Fabric 2
Vintage 1342 China or Porcelain 2
Vintage 1343 Glass 1
Vintage 1344 Bottles of Jars 1
Vintage 1345 Metal 1
Vintage 1346 Copper or Brass 1
Vintage 1347 Gold 1
Vintage 1348 Silver 1
Vintage 1349 Silverware or Cookware 1
Vintage 1350 Books 1
Vintage 1351 Paper Articles 1
Vintage 1353 Photos 1
Vintage 1354 Watches or Clocks 1
Vintage 1355 Jewelry 2
Vintage 1356 Dolls 1
Vintage 1357 Toys 2
Vintage 1359 Wood or Leather Accs, Farm Tools, Western Tack 1
Vintage 1360 Restores Vintage Item 1
Vintage 1362 Other 1
Antiques 1363 China or Porcelain 1
Antiques 1364 Watches, Clocks, Jewelry 1
Antiques 1365 Prints or Photos 1
Antiques 1366 Any Clothing 1
Antiques 1367 Any Paper Item 1
Antiques 1368 Any Metal Item 1
Vintage Champion Rosette
Antiques Champion Rosette
Antiques Reserve Champion Rosette
Baked Goods 1554 4 Dinner Rolls 1
Baked Goods 1564 Zucchini Bread 2
Baked Goods 1572 Muffins 1
Baked Goods 1579 Peanut Butter Drop Cookies 1
Baked Goods 1583 No Bake Cookies 1
Baked Goods 1584 Fancy Tea Cookies 1
Baked Goods 1586 Molasses Cookies 1
Baked Goods 1588 Commissioners 1
Baked Goods 1578 Chocolate Chip Cookies 1
Kai Brown
Youth 2097 Lego Art 1
Youth Champion Rosette
Ross Brown
Mia Crow
Vet Science Unit Champion-1
Cats Unit Champion-1
Leathercraft Unit Champion-1
Creative Sewing Unit Champion-1
Sewing Res Champ
Horeseless Horse 2
Quilting 2
State Fair Vet Science Qualifier
State Fair Cats 7
State Fair Leathercraft Unit Champion
State Fair Creative Sewing Unit Res Champ
Goat ADG 2
District Vi Cake Decorating Contest 2
Will Crow
Shooting Sports 2
Goat ADG 2
Danyelle Deines
Photo 1202 Rural Life 1
Photo Champion Rosette
Baked Goods 1609 Pumpkin Pie 1
Jett Deines
Jude Deines
Preschool 2150 Painting 2
Preschool 2158 Other 3
Braylynn Eder
Photo 1210 Portrait 1
Photo 1214 Animals 2
Photo 1222 1
Photo Champion Rosette
Photo Reserve Champion Rosette
Peyton Eder
Scrapbooking Unit Champion-1
State Fair Scrapbooking 3
Teller Eder
Preschool 2157 Rubber Stamp or Sticker Art 1
Alyxx Egley
Brody Eikenberg
Children 2119 Craft Item Participation
Children 2143 Bird House 3
Jaden Self-Eikenberg
Reona Eikenberg
Children 2119 Craft Item 3
Children 2123 Marker Art 2
Children 2143 Bird House Participation
Children 2146 Other 1
Children Reserve Champion Rosette
Waylon Eikenbger
Children 2119 Craft Item Participation
Children 2143 Bird House Participation
Koree Ellenberger
Grand Champion - Blue 1
Goat Class 3 1
Goat Class 4 1
Goat Sr Showmanship 2
Sheep Sr Showmanship 1
Sheep Class 5 1
Sheep Champ 1
Vinton Engelhardt
Hobby 1411 Woodworking 1
Hobby 1314 Trash to Treasure 1
Hobby Champion Rosette
Hobby Reserve Champion Rosette
Dorothy Ellicott
Garden 1036 Table Carrots 1
Garden 1036 Scallop Squash 1
Garden 1043 Butternut Squash 2
Garden 1050 Decorative Purpose 1
Garden 1061 Tomatoes Table Use 2
Garden 1062 Green Tomatoes 1
Garden 1063 Cherry Plum or Pear Tomatoes 1
Garden Roma Tomatoes 1
Garden Canning Tomatoes 1
Garden Bell Peppers 1
Garden 1067 Green or Yellow Chili Peppers 1
Garden 1068 Jalapeno Peppers 1
Garden 1069 Cherry Peppers 1
Garden 1070 Any Other Peppers 1
Garden 1074 Ornamental Corn 1
Garden 1075 Cabbage 1
Garden 1077 Green Beans 1
Garden 1078 Eggplant 1
Garden 1080 Okra 1
Garden 1091 Collective Gardening 1
Garden Grand Champion Rosette
Flowers 1143 Marigolds 1
Flowers 1144 Zinnia 2
Flowers 1146 Snapdragon 1
Flowers 1150 Giant Dahlias 1
Flowers 1151 Gladioli 1
Flowers 1152 Other Variety Large Flower 1
Flowers 1162 Marigolds 2
Flowers 1167 Zinnia 1
Flowers 1168 Mini Roses 1
Flowers Champ, Reserve Champ, And Judge's Choice Rosette
Flower Arrangements 1175 Mixed Bouquet 1
Arrangements 1176 Single Blossom 1
Arrangements 1177 One Variety 1
Arrangements 1178 2 Color Combination 1
Flower Arrangements Reserve Champion Rosette
Vintage 1352 Prints or Originals 1
Vintage 1355 Jewelry 1
Vintage 1362 Other 3
Vintage Reserve Champion Rosette
Antique 1368 Any Metal Item 2
Food Preservation 1466 Tomato Juice 1
Food Preservation 1485 Peach Jam 1
Food Preservation 1488 Other Jams 1
Food Preservations 1492 Marmalade 1
Food Preservation 1500 Pickled Beets 1
Food Preservation 1527 Frozen Peaches 1
Food Preservation 1532 Green Beans Frozen 1
Food Preservation Reserve Champion Rosette
Baked Goods 1563 Quick Nut Bread 1
Baked Goods 1567 Other Bread 1
Katharina Fehr
Hobby 1409 Painting on Wood 1
Rooney Fehr
Poultry Sr Showmanship 1
Poultry Market 1
Poultry Champ 1
Turkey Market 3
Selena Fehr
Crocheting 2
Cake Decorating 2
Int Round Robin Res 2
Poultry Int Showmanship 1
Poultry Class 604 1
Poultry Class 2 Overall Champ 1
Wesly Fehr
Poultry Sr Showmanship 3
Poultry Class 607 3
Braxtyn Ferris
Goat Class 4 3
Goat Jr Showmanship 2
Goat Class 643 2
Jr Round Robin Res 2
Swine Jr Showmanship 2
Swine Class 5 2
District Vi Horse Show Overall Junior Champion
Braya Ferris
Goat Class 6 1
Goat Class 643 1
Goat Breeding Res Champ 2
Swine Class 5 1
Swine Class 5 3
Taygen Ferris
Goat Class 6 2
Goat Class 646 1
Sheep Sr Showmanship 2
Sheep Class 5 2
Sheep Class 792 1
Beef ADG Champ 1
Beef Sr Showmanship 1
Beef Class 1 2
Aganetha Friesen
Crocheting 2
Poultry Jr Showmanship 3
Anna Friesen
Crocheting 2
Poultry Class 604 2
Bernherd Friesen
David Friesen
Alice Glover
Hobby 1396 Christmas Ideas 3
Baked Goods 1550 White Bread 1
Baked Goods 1551 Whole Wheat Bread 1
Baked Goods 1554 2 Dinner Rolls 2
Baked Goods 1555 4 Sweet Rolls 1
Baked Goods 1564 Zucchini Bread 1
Baked Goods 1561 Coffee Cake 1
Baked Goods 1565 Banana Bread 1
Baked Goods 1574 Brownies 1
Baked Goods 1575 Ice Box Cookies 1
Baked Goods 1578 Chocolate Chip Drop Cookies 2
Baked Goods 1579 Peanut Drop Cookies 2
Baked Goods 1580 Oatmeal Drop Cookies 1
Baked Goods 1581 Other Drop Cookies 1
Baked Goods 1584 Fancy Tea Cookies 2
Baked Goods 1585 Other Cookies 1
Baked Goods 1586 Molasses Cookies 2
Baked Goods 1591 Chiffon Cake 1
Baked Goods 1619 Peanut Brittle 1
Baked Goods 1621 Other Candy 1
Baked Goods Reserve Champion Rosette
Fancy Works 1631 Crocheted Dresser Scarf 1
Fancy Works 1638 Crocheted Dollies Over 14" 1
Fancy Works 1640 Crocheted Collies Under 14" 1
Fancy Works 1645 Crocheted Potholders 2
Fancy Works 1677 Other Table Items 1
Fancy Works 1713 Other Crotched Articles Small 2
Fancy Works 1735 Crocheted Doilies Under 14" 1
Fancy Works 1737 Crocheted Doilies Over 14" 1
Fancy Works Champion Rosette
Fancy Works Senior Champion Rosette
Ashley Gooden
Photography 1196 Landscapes 1
Photography Reserve Champion Rosette
Photography 1196 Animals 1
Kalex Gooden
Preschool 2153 Coloring Book Page 1
Preschool 2155 Plaster Clay or Playdough Art 1
Preschool 2156 Cookies 1
Preschool 2154 Nature Art 1
Preschool 2158 Other 1
Preschool Champion Rosette
Preschool Reserve Champion Rosette
Kyce Gooden
Children 2117 Collection 2
Children 2123 Marker Art 1
Children 2124 Painting 3
Children 2133 Bead Work 1
Children 2138 Jewelry 1
Children 2144 Nature Art 1
Children 2115 4 Cookies 2
Children 2119 Craft Item 1
Children 2146 Other 2
Children 2132 Plaster Clay or Playdough Art 2
Kytan Gooden
Children 2120 Crayon Art 3
Children 2121 Pencil Art 1
Children 2122 Colored Pencil Art 1
Children 2123 Marker Art 3
Children 2142 Paper Mache Animal 1
Children 2146 Other Participation
Children 2147 Baked Goods 2
Children 2115 4 Cookies 1
Children 2116 4 Decorated Cookies 1
Children 2119 Craft Item 2
Children 2134 Photo 1
Children 2143 Bird House 1
Children Champion Rosette
Norman Greenfield
Photo 1193 Portrait 1
Photo 1194 Still Life 1
Photo 1195 Flowers 1
Photo 1196 2
Photo 1197 Animals 1
Photo 1198 Activities 1
Photo 1199 Architecture 1
Photo 1200 Season or Holidays 1
Photo 1201 Action 1
Photo 1202 Rural Life 1
Photo 1203 Humorous 1
Photo 1204 Snapshot 1
Photo 1205 Series 1
Photo 1207 Other 1
Vintage 1339 Garment 2
Vintage 1342 China or Porcelain 1
Vintage 1343 Glass 2
Vintage 1344 Bottles or Jars 3
Vintage 1345 Metal 2
Vintage 1350 Book 2
Vintage 1351 Paper Articles 2
Vintage 1362 Other 1
Antiques 1367 Book 2
Antiques 1365 Print 2
Furniture 1371 Other 1
Furniture Champion Rosette
Hobby 1410 Wood 1
Hobby 1417 Other 1
Collections 1422 Bottles 1
Susan Greenfield
Art 1307 Acrylic Landscape 1
Art Beginner Reserve Champion Rosette
Hobby 1378 Embroidered Hand Stitches Wall Hanging 1
Hobby 1384 Other Wall Hanging 1
Hobby 1395 Beadwork 1
Fancy Works 1638 Crocheted Doilies Under 14" 2
Fancy Works 1646 Crocheted Potholders 1
Fancy Works 1710 Other Knitted Articles Small 1
Fancy Works 1714 Other Crocheted Articles Medium 1
Fancy Works 1718 Decorated Bath Towels 1
Afghan 1892 Simple Crocheted 2
Garrett Hainer
Leathercraft Unit Champion-1
State Fair Leathercraft Unit Res. Champ
Damian Hernandez
Photo 1213 Landscapes 3
Photo 1217 Season or Holiday 1
Photo 1219 Rural Life 2
Photo 1224 Other 2
Lonni Hier
Flower Arrangements 1188 Artificial Centerpiece 1
Calen Hoffman
Kindel Hoffman
Liz Hulteen
Art 1266 Acrylic Portrait 1
Art 1267 Acrylic Landscape 1
Art 1268 Acrylic Animals 1
Art 1269 Acrylic Flowers 1
Art 1270 Acrylic Other 1
Art 1290 Pencil Sketch 1
Art 1293 Other 1
Art 1298 Mixed Media 1
Art 1306 Acrylic Portrait 1
Art 1307 Acrylic Landscape 2
Art 1308 Acrylic Animals 1
Art 1309 Acrylic Flowers 1
Art 1310 Acrylic Other 1
Art 1324 Still Life Colored Pencil 1
Art 1328 Flowers 1
Art 1332 Pencil Sketch 1
Art 1335 Other 1
Art Advanced Champion Rosette
Art Advanced Reserve Champion Rosette
Areta Laird
Vintage 1350 Books 3
Antiques 1367 Any Paper Item 3
Hobby 1438 Other
Food Preservation 1489 Peach Butter 1
Baked Goods 1564 Zucchini Bread 3
Baked Goods 1581 Other Drop Cookies 2
Terry Laird
Garden 1061 Tomatoes Table Use 3
Hobby 1407 Metal Sculpture 1
Fran Larrew
Art 1301 Landscape 1
Art Beginner Champion Rosette
Vintage Article of Fabric 1
Hobby 1391 Other Ceramics 1
Baked Goods 1590 Angel Food Cake 1
Baked Goods Champion Rosette
Fancy Works 1658 Hand Painted Pillow Case 1
Taya Lawrence
801 - 1014 - Poultry 1
Garden 1032 Yellow Spanish Onion 1
Garden 1036 Table Carrots 2
Garden 1052 Cucumbers for Slicing 2
Garden 1054 Cucumbers for Pickling 1
Garden 1063 Cherry Plum or Pear Tomatoes 2
Children 2120 Crayon Art 2
Children 2132 Plaster Clay or Playdough Art 1
Tinley Lawrence
Cake Decorating Unit Champion-1
State Fair Cake Decorating Qualifier
Rabbit Showmanship 1
Rabbit Baker 2
Rabbit Jr Showmanship 2
Garden 1027 Red Onion 2
Garden 1036 Table Carrots 3
Garden 1041 Straight or Crook Neck Squash 1
Garden 1052 Cucumbers for Slicing 1
Garden 1054 Cucumbers for Pickling 2
Garden 1063 Cherry Plum Pears 3
Food Preservation 1501 Dill Pickles 2
Food Preservation 1504 Bread and Butter Pickles 2
Food Preservation 1512 Relish 1
Youth 2063 Colored Sketch 1
Youth 2096 Other 1
Youth Reserve Champion Rosette
Brentley Lening
Kiya Leonard
Goat Class 1 1
Goat Class 643 3
Goat Class 644 2
Goat Class 644 1
Goat Breeding Champ 1
Sr Round Robin Res 2
Cade McDowell
Goat Class 2 1
Rabbit Sr Showmanship 1
Rabbit Champ 1
Madison McDowell
Swine Sr Showmanship 3
Rabbit Sr Showmanship 3
Rabbit Class 575 2
Jacelynn McKibben
Photography Unit 1 Unit Champion-1
State Fair Photography Unit 1 Qualifier
State Fair Photography Contest - Animals Grand Champion
State Fair Photography Contest - Architecture 1
State Fair Photography Contest - Landscape 3
State Fair Photography Contest - Plant Life 6
Carmen McPherson
Goat Class 5 2
Goat ADG 1
Goat Jr Showmanship 1
Sheep ADG 1
Sheep Jr Showmanship 1
Sheep Class 2 2
Poultry Jr Showmanship 1
Poultry Class 604 1
Poultry Class 607 2
Poultry Division 2 Res Champ 2
Sheri Mendez
Photography Participation
Krissy Miller
Photo 1212 Flowers 2
Photo 1213 Landscapes 2
Photo 1220 Humorous 1
Photo 1221 Snapshot 1
Photo 1224 Other 1
Hobby 1391 Ceramics Other 2
Hobby 1396 Christmas Idea 1
Hobby 1406 Button Extravaganza 1
Hobby 1409 Paint on Wood 1
Hobby 1415 Painting on Glass 1
Fancy Works 1630 Hand Painted Dresser Scarves 1
Fancy Works 1645 Crocheted Potholders 2
Fancy Works 1679 Crocheted Rugs 1
Fancy Works 1688 Crocheted Baby Set 1
Fancy Works 1690 Other Baby Apparel 1
Fancy Works 1716 Other Crocheted Items 1
Fancy Works Reserve Champion
Afghans 1892 Simple Crocheted 1
Afghan 1893 Intermediate Crocheted 1
Afghan 1898 Other 1
Afghan 1900 Crocheted Baby Afghan 1
Afghan Champion Rosette
Afghan Reserve Champion Rosette
Aubrey Mitchek
Jr Round Robin Champ 1
Beef Adg 3
Beef Jr Showmanship 1
Beef Class 2 2
Beef Res Champ 2
Swine Jr Showmanship 1
Swine Class 4 2
Stockton Mitchek
Beef Int Showmanship 1
Beef Class 2 1
Beef Champ 1
Swine Class 2 1
Swine Class 2 3
Weston Mitchek
Beef Class 1 1
Swine Int Showmanship 3
Swine Class 3 2
Swine Class 4 3
Robin Musgrave
Art 1308 Acrylic Animals 2
Alexa Nelson
Shooting Sports Unit Champion - 1
Leathercraft Unit Champion - 1
Steam 2 Clothing Unit Champion - 1
Creative Sewing Unit Champion - 1 Sewing Grand Champ
Food Preservation Unit Champion - 1 Food Arts- Champ
State Fair Shooting Sports Qualifier
State Fair Leathercraft 4
State Fair Steam 2 Clothing "Unit Champion Grand Res Champ"
State Fair Creative Sewing Unit Champion
State Fair Food Preservation Qualifier
State Fair Quilting 5
State Fair Photo Contest - Animals 8
State Fair Photo Contest - Plant Life 10
Sr Fashion Revue 1
Fashion Revue Champion 1
Goat Res Champ - Red 2
Goat Class 3 2
Goat Class 4 2
Goat Sr Showmanship 3
Sr Round Robin Champ 1
Sheep Class 4 2
Sheep Sr Showmanship 3
Sheep Class 790 1
Sheep Breeding Champ 1
Rabbit Sr Showmanship 2
Rabbit Res Champ 2
Rabbit Market 3
Rabbit Baker 1
Rabbit Breeding 1
Rabbit Breeding 2
Poultry Sr Showmanship 2
Poultry Market 2
Poultry Res Champ 2
Turkey Market 1
Turkey Market 2
Rabbit Class 574 1
Rabbit Class 575 1
Rabbit Class 576 1
Photo 1214 Animals 3
Fancy Works 1652 Mini Pillows 2
Fancy Works 1653 Other Pillows 3
District Vi Creative Cooks Contest Champion
Aspen Nelson
Model Rocketry Unit Champion-1
Shooting Sports Unit Champion-1
Steam 2 Clothing Unit Champion-1
Cooking 301 Unit Champion-1 Food Art Res Champ
State Fair Model Rocketry 5
State Fair Shooting Sports Unit Champion
State Fair Steam 2 Clothing 3
State Fair Cooking 301 Unit Champion
Intermediate Fashion Revue 1
Fashion Revue Reserve Champion 1
Swine ADG Champion 1
Swine Int Showmanship 2
Swine Class 1 1
Poultry Int Showmanship 3
Poultry Market 3
Case Nelson
Model Rocketry Unit Champion-1 Natural Resource Champion
Woodworking Unit Champion-1
State Fair Model Rocketry Unit Champion Grand Champion
State Fair Woodworking Qualifier
Sheep ADG 3
Sheep Class 3 3
Sheep Class 4 3
Swine ADG 3
Swine Sr Showmanship 2
Swine Class 1 3
Clayton Nelson
Welding Unit Champion-1
Shooting Sports Unit Champion-1
Ceramics Unit Champion-1
Leathercraft Unit Champion-1
Woodworking "Unit Champion-1 Natural Resource Res. Champion"
Outdoor Cooking Unit Champion-1
Food Preservation Unit Champion-1
Quilting Unit Champion-1
State Fair Welding 4
State Fair Shooting Sports 5
State Fair Ceramics Unit Champion Grand Champion
State Fair Leathercraft 5
State Fair Woodworking 3
State Fair Outdoor Cooking 4
State Fair Food Preservation 3
State Fair Quilting 4
Int Round Robin Champ 1
Sheep Int Showmanship 1
Sheep Class 790 2
Sheep Breeding Res Champ 2
Poultry Int Showmanship 2
District Vi Creative Cooks Contest Res Champion
District Vi Dog Show Champion Contact Dog Agility
Colin Nelson
Teen 1948 Landscapes 1
Teen 1949 Animals 1
Teen 2049 Lego Art/Structure 2
Teen 2050 4 Drop Cookies 1
Teen Champion Rosette
Hatch Nelson
Goat Class 1 1
Goat Class 1 3
Sheep Class 5 3
Swine ADG Res 2
Michelle Nelson
Photo 1212 Flowers 3
Photo 1213 Landscapes 1
Photo 1214 Animals 1
Photo 1219 Rural Life 1
Hobby 1401 Creating with Fabric 1
Fancy Works 1646 Fabric Potholders 1
Fancy Works 1650 Mini Pillow 1
Quilts 1805 Machine Quilted Patchwork 2
Quilts 1820 Machine Quilted Panel 2
Quilts 1840 Machine Quilted Patchwork Baby Quilt 1
Clothing 1926 Shorts 1
Clothing 1932 Apron 1
Clothing 1933 Doll Clothing 1
Clothing Champion Rosette
Donald Oswald
Food Preservation 1480 Crabapple Jelly 1
Food Preservation 1509 Pickled Vegs 1
Food Preservation 1518 Hot Sauce 1
Food Preservation Champion Rosette
Baked Goods 1550 White Bread 2
Baked Goods 1554 4 Dinner Rolls 3
Baked Goods 1556 Sourdough Bread 1
Baked Goods 1557 Sourdough Rolls 1
Baked Goods 1605 Apple Pie 1
Baked Goods 1606 Cherry Pie 1
Baked Goods 1610 Rhubarb Pie 1
Baked Goods 1621 Other Candy 2
Alessandra Paez
Beef Class 4 1
Goat Class 2 3
Sheep Int Showmanship 2
Sheep Class 4 1
Sheep Res 2
Beef Int Showmanship 2
Beef Class 3 3
Gloria Peck
Quilts 1850 Machine Quilted Patchwork 1
Quilts Senior Champion Rosette
Quilts Senior Judge's Choice Rosette
Madonna Pollreis
Fancy Works 1646 Fabric Potholders 2
Fancy Works 1737 Crocheted Potholders 1
Fancy Works Senior Reserve Champion
Quilts 1840 Machine Quilted Patchwork Baby Quilt 3
Quilts 1884 Patchwork Baby Quilt 1
Quilts Senior Reserve Champion Rosette
Charlie Prine
Small Animal Show and Tell 1
Small Animal Show & Tell Champion Rosette
Children 2115 4 Cookies 3
Children 2116 4 Decorated Cookies 2
Children 2117 Collection 3
Children 2120 Crayon Art Participation
Children 2123 Marker Art Participation
Children 2124 Painting 2
Children 2148 Lego Art 2
Gaige Rittgers
Goat Class 5 3
Beef ADG Res 2
Beef Int Showmanship 3
Beef Class 3 1
Rhealie Rittgers
Goat Sr Showmanship 1
Beef Class 2 3
Saige Sagner
Children 2117 Hobby Collection 1
Children 2120 Crayon Art 1
Children 2121 Pencil Art 2
Children 2122 Colored Pencil Art 2
Children 2123 Marker Art Participation
Children 2124 Painting 1
Children 2128 Holiday Item 1
Children 2134 Photo 2
Children 2139 Teddy Bear Best Dressed 1
Children 2143 Bird House 2
Children 2146 Other 3
Sloan Sagner
Children 2121 Pencil Art 1
Preschool 2150 Painting 1
Preschool 2151 Teddy Bear Best Dressed 1
Preschool 2154 Nature Art 2
Preschool 2157 Rubber Stamp or Sticker Art 2
Preschool 2158 Other 2
Sharon Scott
Garden 1084 Apples 1
Flowers 1144 Zinnia 1
Flowers 1145 Roses 1
Flowers 1162 Marigolds 1
Flowers 1164 Petunias 1
Flowers Zinnia 2
Flowers 1169 Other Variety Small Flower 1
Arrangements 1175 Mixed Bouquet 2
Arrangements 1177 One Variety 2
Baked Goods 1583 No Bake Cookies 2
Megan Wilson-Scranton
Photo 1212 Flowers 1
Teen 1947 Still Life 1
Teen Reserve Champion Rosette
Kyra Sheridan
Carole Spady
Hobby 1382 Painted Wall Hanging 1
Hobby 1396 Christmas Idea 2
Hobby 1397 Easter Idea 1
Hobby 1398 Halloween Idea 1
Hobby 1399 Other Holidays 1
Hobby 1401 Creation with Fabric 2
Hobby 1406 Button Extravaganza 2
Fancy Works 1632 Other Dresser Scarf 1
Fancy Works 1646 Fabric Potholders 3
Fancy Works 1650 Mini Pillow 2
Fancy Works 1652 Patchwork Pillow 1
Fancy Works 1653 Other Pillows 1
Fancy Works 1659 Other Pillowcase 1
Fancy Works 1673 Place Mats 2
Quilts 1805 Machine Quilted Patchwork 1
Quilts 1809 Machine Quilted Embroidered 1
Quilts 1812 Hand Quilted Mixed Technique 1
Quilts 1820 Machine Quilted Panel 1
Quilts 1824 Hand Quilted Beginning Quilt 1
Quilts 1825 Machine Quilted Wall Hanging 1
Quilts 1826 Hand Quilted Wall Hanging 1
Quilts 1828 Mini Quilt 24"X24" or Smaller 1
Quilts 1840 Machine Quilted Patchwork Baby Quilt 2
Clothing 1920 Dress 1
Clothing 1932 Apron 2
Clothing Reserve Champion Rosette
Kathy Specht
Quilts 1807 Machine Quilted Applique 1
Quilts Reserve Champion Rosette
Chase Stolzenberger
Leathercraft Champion - 1 Leisure Art Champ
State Fair Leathercraft Unit Res Champ
Food Preservation 1
Swine Class 1 2
Hailee Trosper
Horseless Horse Champion - 1
Cake Decorating Champion - 1
State Fair Horseless Horse Unit Res Champ
State Fair Cake Decorating Qualifier
Quilting 2
Photography Unit 1 1
Goat ADG 3
Goat Int Showmanship 3
Sheep Int Showmanship 3
Sheep Class 2 3
District Vi Cake Decorating Contest Res Champion
Katherine Trosper
Horseless Horse Champion - 1 Leisure Art Res Champion
Cake Decorating Champion - 1
Photography Champion - 1
State Fair Horseless Horse Unit Res Champ
State Fair Cake Decorating 5
State Fair Photography 8
State Fair Photo Contest - 4-H In Action 4
Sheep ADG 2
Sheep Class 3 1
Sheep Class 3 2
District Vi Cake Decorating Contest Champion
Sylvia Weeks
Hobby 1377 Cross Stitch Wall Hanging 1
Kara Wilson
Goat Class 5 1
Goat Int Showmanship 1
Swine Int Showmanship 1
Swine Class 2 2
Swine Class 4 1
Swine Champ 1
Ty Wilson
Swine Sr Showmanship 1
Swine Class 3 1
Swine Class 3 3
Swine Res Champ 2
Landon Zimmerman
Shooting Sports Champion - 1
Model Rocketry Champion - 1
State Fair Shooting Sports 8
State Fair Model Rocketry Unit Res Champ