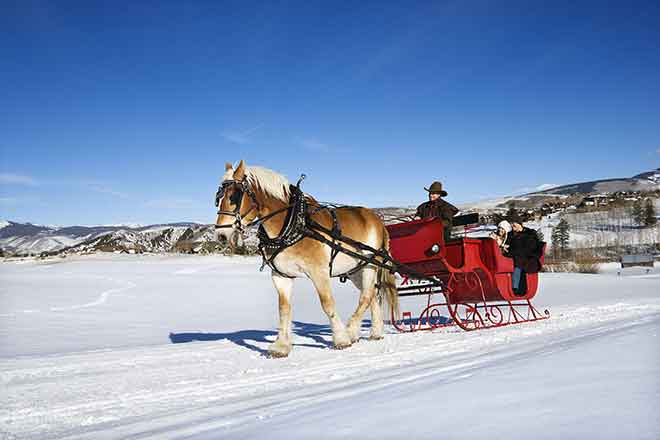 Published
Wednesday, November 28, 2018
For an outing that's both calming and stunning, consider taking in the beautiful Colorado landscape on a horse-drawn sleigh ride. A sleigh ride creates a quiet, relaxing evening in which you can enjoy nature, admire the stars, and converse deeply with loved ones. Many of the best sleigh rides in Colorado also include dinner and entertainment! Check out our list of some of the state's top horse-drawn sleigh rides below.
Squaw Creek Valley
Located 15 minutes west of Beaver Creek, Bearcat's Cabin is the original cabin of the 20th-century Bearden family homestead. The Cabin has been completely restored and now acts as one of Vail's most historic restaurant establishments. With such a historic background and an extraordinary landscape, their horse-drawn sleigh rides make for an unforgettable journey. Their team will give you a history of the land while you sip on your preferred beverage. Each of their sleighs seats up to 14 guests, and they have two ride options--happy hour sleigh rides and dinner sleigh rides. You'll want to bring your camera along for this scenic night!
Durango
Located in southwest Colorado, Rapp Corral leads you to the gorgeous San Juan Mountains. One of Durango's favorite winter sleigh ride escapes, their sleigh ride draws you through the white of winter. With five different sleighs, they can accommodate up to 10 adults comfortably. On your ride, they'll guide you through three miles of the splendid snowscape. They also give you a nice cup of hot chocolate and warm you up afterward as you relax by the fire.
Steamboat Springs
Saddleback Ranch gives you the option to partake in a tubing and sleigh ride dinner adventure, or just a sleigh ride and dinner experience. Their Yee Haw Tubing & Sleigh Ride Dinner is a perfect option if you're bringing kids along. You'll start at 3:30, and tubing lasts an hour and a half at Steamboat Spring's popular tubing hill. Afterward, your dinner sleigh ride awaits! If tubing isn't your fancy, their dinner and horse-drawn sleigh rides start at 5:15, and there's a delicious home-cooked dinner waiting for you once you arrive.
Telluride
Located on the Aldasoro family ranch, Telluride Sleighs and Wagons opens the property's spectacular views and rich history to the public. They offer two rides a day--a 4:30 ride geared toward families, and a 6:30 adult ride. All rides include a five-course dinner at their authentic sheep camp, and the adult ride serves traditional Spanish tapas and a welcome cocktail before dinner. Experience Telluride's lavishing landscape this winter with an unforgettable three-hour event!
Frisco
One of the best sleigh rides in Colorado, Two Below Zero takes you on an adventure through the towering pines and mountainous vistas of the Rocky Mountain landscape. Right in the middle of the key resort communities, they provide an extraordinary themed dinner experience. The night begins with a calm sleigh ride surrounded by snow-capped mountains and starry skies. After your 20-minute ride, they welcome you into a lantern-lit, heated tent. With a three-course meal and musical entertainment, you'll finish a memorable night with another sleigh ride to the starting location. They also offer hot cocoa sleigh rides and private sleigh rides if you want a more romantic journey.