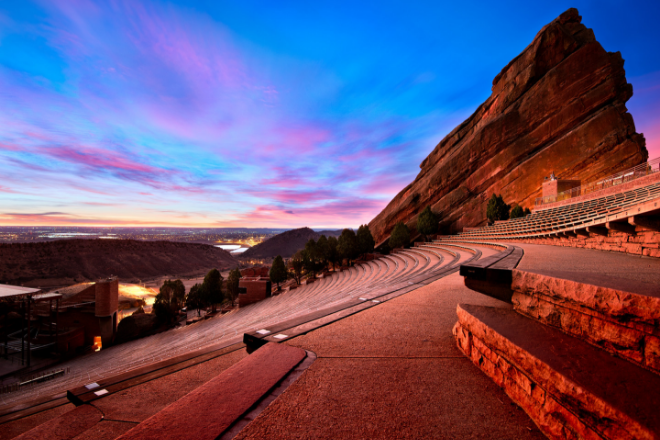 Published
Tuesday, April 9, 2019
Like wine and cheese, the combination of Colorado and concerts is an undeniably attractive pairing. Attending a concert can make one feel as if they are in a different world for a spell, and Red Rocks provides a beautiful setting for this fantasy. Their summer concert series features a diverse array of headliners, providing a charming attraction for anyone looking to experience the venue.
Artists You Need to See at the Red Rocks Summer Concert Series
May 12
Country fans rejoice! The "She Got the Best of Me" singer sells tickets, and sells them well. His country songs are a constant on the charts, and if his name is not a household one yet, it will be. 2019 opens Comb's first headlining arena tour--it's the inevitable first of many. Fans attest to the quality of his live performances, but if you want to find out for yourself, this show will be the perfect opportunity.
June 5
Billie Eilish is a teen popstar prodigy, but she is unconventional when it comes to the traditional description of the pop artist. Her hits, such as "Ocean Eyes" and "Bellyache", offer deep, introspective lyrics that stay with the listener. Eilish booked her first tour at only 15 years old, and she is only getting stronger with age.
July 14
An unsung gem of the musical world, it's difficult to describe Pink Martini's extensive repertoire in a few words. Their catalogue offers a diverse collaboration of genres, ranging from pop to classical musical. A Pink Martini concert is like a world tour, offering an array of styles. They will perform alongside Mary Chapin Carpenter and The Colorado Symphony.
August 14
Lionel Richie is a decorated veteran of the music industry, but his accolades are still accumulating. Starting as an R&B singer in the 60s, Lionel won millions over with influential love ballads (and a versatile blend of musical styles to compliment them). Whether you have been a fan of Richie's for decades or only recently discovered him, his show is sure to capture your heart.
June 25
Death Cab wrote the guidebook for the musical and emotional development of teenagers and young adults. They play a mixture of indie and alternative rock, and they have an unorthodox approach to the handling of their instruments. Red Rocks is the perfect host for their unique approach to showmanship.