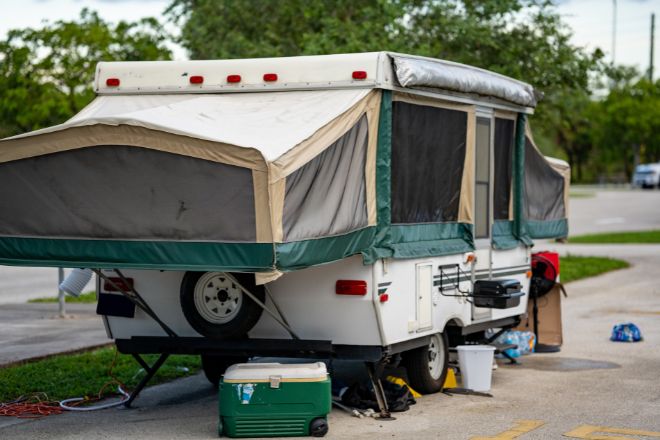 Published
Thursday, September 8, 2022
Are you a frequent camper who's ready to graduate from your tent? One great travel shelter you can use is a pop-up camper, which offers many of the same perks as a standard trailer without the steep price tag. To help you determine if a pop-up camper is right for you, here are five reasons you should own one.
Wallet-friendly
A standard travel trailer can cost anywhere from $10,000 to $200,000. Pop-up campers are much more friendly to your wallet, with most costing under $10,000.
Extremely portable
Pop-up campers are small and light, which makes them easy to tow. If you're worried about towing a big travel trailer, a pop-up trailer is a much safer choice for the road.
Customizable
Pop-up trailers are highly customizable. You can choose from a wide variety of materials, frames, sizes, and floor plans. There are also various add-ons for pop-up trailers, such as portable toilets, kitchens, tables, and heaters. This allows you to personalize your camper to fit your individual travel needs.
Fit the whole family
Another reason you should own a pop-up camper is that they're roomy enough to fit you and your friends and family. While they look small, pop-up trailers can still fit a lot of stuff. Many feature modern amenities like bathrooms and dinettes, and larger pop-ups can sleep up to eight!
Easy setup
Setting up a pop-up trailer is quick and easy. Some say it's even easier than pitching a tent. When setting up your pop-up, it's best to consult the instructions for your specific model and brand. That said, most pop-up trailers follow a similar setup process. Just level your trailer, unhook it from your car or truck, and use a crank or lift to raise the roof. Slide out the side beds and tuck the canvas around them, and then pull down and attach the door to the trailer. That's all!
If you want to camp in comfort and style but don't want to break the bank by going full-on glamping, pop-up tent campers are convenient, cost-friendly stand-ins.