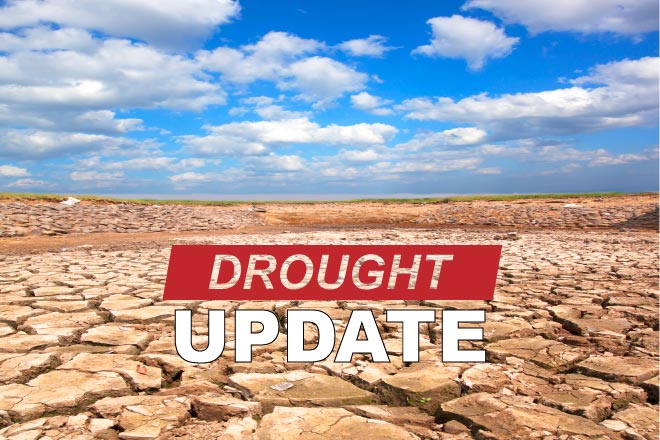 Published
Saturday, October 10, 2020
As drought conditions in western Colorado continue to degrade, 60 percent of the state is now in extreme or exceptional drought - the two worst categories - according to the latest report from the National Drought Mitigation Center. Much of the state experienced above average temperatures and little to no precipitation during the week.
Portions of Garfield, Mesa, Delta and Pitkin counties fell into exceptional drought last week, joining central Kiowa County, which has been in exceptional conditions for more than a month. This week, portions of counties across the western slope, including Moffat, Rio Blanco, Routt, Grand, Eagle, Summit, Montrose, San Miguel, Ouray, Dolores, Montezuma, La Plata, and Hinsdale, added exceptional drought to extreme conditions covering the remainder of their area.
Extreme drought expanded to cover the remainder of Jackson and Eagle counties and entered western Larimer and Gilpin counties. On the eastern plains, extreme conditions entered or expanded in Cheyenne, Kit Carson, Yuma, Washington, Adams, Arapahoe, Elbert and Lincoln counties.
The United States Monthly Drought Outlook for October shows drought persisting through the month. Temperatures during the month and through the end of the year are likely to remain above normal, while precipitation is expected to remain below normal.
Persistent drought over the summer continues to impact agriculture producers. The United States Department of Agriculture reported that Colorado livestock producers in east central counties are continuing to provide supplemental feed to livestock, and that fields normally cut for grass hay were too short and dry to produce hay this year.
Overall, 17 percent of Colorado is in exceptional drought, up from three percent during the previous week. Extreme drought fell from 50 percent to 43 as conditions degraded. Severe drought also fell from 36 to 31 percent as areas moved into worse conditions. Moderate drought dropped from 10 to 9 percent, while abnormally dry conditions were steady at one percent. Numbers do not total 100 percent due to rounding.
One year ago, 25 percent of Colorado was drought-free, with an additional 38 percent abnormally dry. Twenty-six percent of the state was in moderate drought, while 11 percent was experiencing severe conditions.
Drought classes include (ranked from least to most severe) D0 - abnormally dry, D1 - moderate, D2 - severe, D3 - extreme, and D4 - exceptional drought.
Colorado Drought by the Numbers

Week

Date

None

D0

D1

D2

D3

D4

Current

10/6/20

0

1

9

31

43

17

Last Week

9/29/20

0

1

10

36

50

3

3 Months Ago

7/7/20

16

15

14

21

34

0

Start of Calendar Year

12/31/19

32

17

31

20

0

0

Start of Water Year

9/29/20

0

1

10

36

50

3

One Year Ago

10/8/19

25

38

26

11

0

0