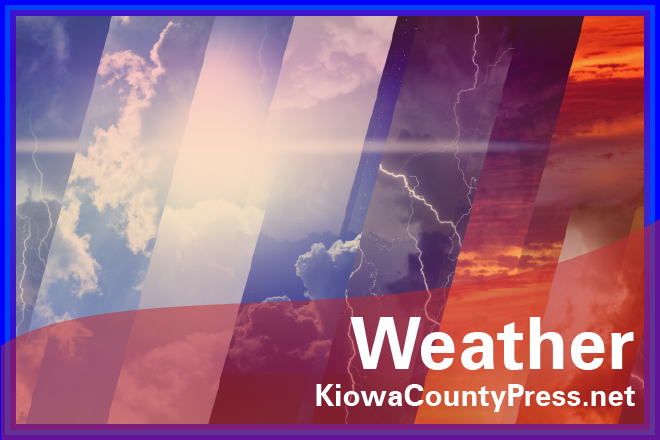 Published
Sunday, January 7, 2018
Mountain areas of Colorado, particularly the western half of the state, will continue to see wintery conditions through midday Sunday. The plains will remain largely dry, with above-average temperatures.
Eastern Plains
Snow clears out of the eastern mountains by midday, though roads may remain slick. The plains remain relatively warm Sunday, with highs in the upper 40s for the northeast, and low 50s for the southeastern part of the state. A north wind in the 15 to 25 miles per hour range will continue for a few hours as a front pushes through.
Monday will be warm for this time of year, with upper 50s and low 60s predicted. Tuesday brings even warmer temperatures to the plains. While Sterling and Fort Morgan will see highs in the low 60s, Trinidad, Eads and Limon will be in the upper 60s. Springfield will be the hot spot, with a forecast high in the low 70s for the day.
The next storm system rolls in Wednesday into Thursday, with snow expected in the mountains, and a mix of rain and snow further east. Wednesday's highs will mainly be in the 50s, with upper 40s for the northeast corner of the state.
Look for further cooling Thursday.
West Slope
Snow Saturday night into Sunday may bring a little relief for drought-stricken western Colorado. Four to 10 inches fell in the mountains overnight, while other areas received lesser amounts. Roads will remain slick in spots through the morning.
A ridge building over the area Sunday night will hold back additional moisture, though snow melt may produce fog in the valleys Monday morning. Temperatures will warm to the upper 40s to low 50s for the early part of the week.
The next system begins moving into the area Wednesday, and highs will cool to the low to mid-40s. Expect some rain in the southern valleys and snow in the San Juan mountains. The system will continue northward during the day, bringing snow to the northern mountains.
The work week closes with another chance for snow Friday, along with cooler temperatures.
Weather information updated throughout the day is available at http://KiowaCountyPress.net/weather
Temperature Forecast - January 7 - 10

Sunday

Monday

Tuesday

Wednesday

City

High

Low

High

Low

High

Low

High

Low

Eads

51

21

57

26

68

32

58

20

Springfield

52

23

61

34

72

38

58

21

Trinidad

49

26

65

37

68

34

55

22

Limon

48

17

59

27

67

30

51

16

Sterling

47

21

55

27

61

29

48

14

Fort Morgan

50

21

55

28

63

29

48

14

Craig

33

17

40

26

41

26

34

16

Grand Junction

44

20

47

25

49

26

45

20

Montrose

44

20

48

28

50

29

41

19

Cortez

51

18

51

29

52

28

43

17