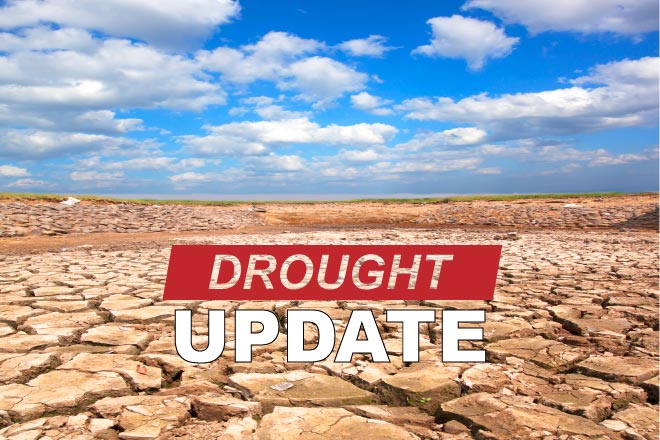 Published
Thursday, September 3, 2020
One week after a pocket of exceptional drought emerged in Colorado, 91 percent of the state is in severe or extreme conditions according to the latest report from the National Drought Mitigation Center.
This week's conditions are a slight improvement for part of the state as portions of Custer, Fremont, Teller and El Paso counties shifted from severe to moderate drought.
In eastern Kit Carson County, an abnormally dry area that developed following a series of storms earlier in the summer returned to moderate drought. Burlington, the largest community in the county, saw an August average maximum temperature of 93 degrees - seven degrees higher than normal. At the same time the city saw less than half its usual rainfall for August. Just 1.15 inches of rain was recorded, compared to the average of 2.41 inches.
Burlington also set a record high of 100 degrees August 24.
While much of the remainder of the state is unchanged from the previous week's report, severe drought did expand slightly in eastern Cheyenne County.
Hot, dry conditions have contributed to four costly fires in northern and western Colorado. At least $83 million has been spent to battle the blazes.
The outlook for September remains grim. Drought is expected to persist through the month, and the remaining abnormally dry areas in Weld and Yuma counties are expected to develop at least moderate drought over the coming month.
Temperatures across the western half of Colorado are expected to remain above normal for the month, while the eastern plains have equal chances of above, below or normal temperatures. Across the nation, temperatures are predicted to remain above normal through November.
Below normal precipitation is also expected across the Colorado in September.
Overall, abnormally dry conditions fell from two percent last week to one percent in the state. Areas of moderate drought increased from five percent to seven, while severe conditions dropped to 55 from 57 percent. Extreme drought was unchanged at 36 percent. Numbers do not total 100 percent due to rounding.
While Colorado does have a pocket of exceptional drought that developed in central Kiowa County last week, it represents just 0.38 percent of the state.
Just under five million people live in drought-impacted areas of Colorado.
One year ago, 59 percent of the state was drought-free, while an additional 38 percent was abnormally dry. Three percent of Colorado was in moderate drought conditions.
Early in the summer of 2019, the state was in an eight-week span of drought-free conditions - the first time Colorado had been clear from all levels of drought and abnormally dry conditions since records became available starting in 2000.
Drought classes include (ranked from least to most severe) D0 - abnormally dry, D1 - moderate, D2 - severe, D3 - extreme, and D4 - exceptional drought.
Colorado Drought by the Numbers

Week

Date

None

D0

D1

D2

D3

D4

Current

9/1/20

0

1

7

55

36

0

Last Week

8/25/20

0

2

5

57

36

0

3 Months Ago

6/2/20

23

13

16

28

19

0

Start of Calendar Year

12/31/19

32

17

31

20

0

0

Start of Water Year

10/1/19

30

42

28

0

0

0

One Year Ago

9/3/19

59

38

3

0

0

0