Image
About Town – April 4, 2022
Luke 18:33 Jesus said, "What is impossible with men is possible with God"
Matt and Claire Prince, Mary Vasquez and Betsy Barnett are some key individuals who are planning the second Ag Appreciation Day celebration April 10 from noon to 5:00 p.m. Free hamburgers and hot dogs will be on the grill. There will also be a KidZone as well as live music, and people can watch a "play day" for kids riding in the arena directed by Cody and Robin Fox and the riding club. There will also be a barbeque cook off contest with three prizes beginning at $250. Remember last year when county organizers hosted a big event to react to Governor Jared Polis' declaration of a "Meat Out Day?" That did not set well with the ranchers. March 20 turned out to be a huge success, with an amazing number of people filling the Kiowa County fairgrounds for a good time of visiting and observing people. Let us again celebrate living in our good farming and ranching community. Also, these leader surely could use some volunteers, so please do call them. Teenagers, here is a chance for you to do some community service for your scholarship and college applications.
Rod Pelton of Cheyenne Wells is our district's representative to the State House of Representatives. He writes informative articles which I do hope voters take time to read.
Sue Fox drove to Calhan to watch Cody Fox's three daughters in a children's rodeo. When she showed me their photos, I was amazed to see how much they have grown.
There will be an Eads Alumni planning meeting April 11 at 5:30 pm in the Eads High School library. We welcome people to come to plan more ideas and how we will implement the innovative ideas that are proposed for a great reunion during the county fair. We also need addresses of people over 50 years old if they may have moved in the last five years.
Doris Copeland, who has lived at Prairie Pines Assisted Living Center for the past ten years, was also the oldest resident. This precious lady has died, and we do miss her presence there so much. Mary Marble, at 97, told me that she now is the oldest resident. Mary wrote some more stanzas to her poem "Is It You or Is it Me?" What an amazing woman! I was delighted to be invited to have lunch at Prairie Pines last week. Christina Wolf is a fabulous cook. It is always such a pleasure to dine there and to get to visit with the dear people who live there.
Image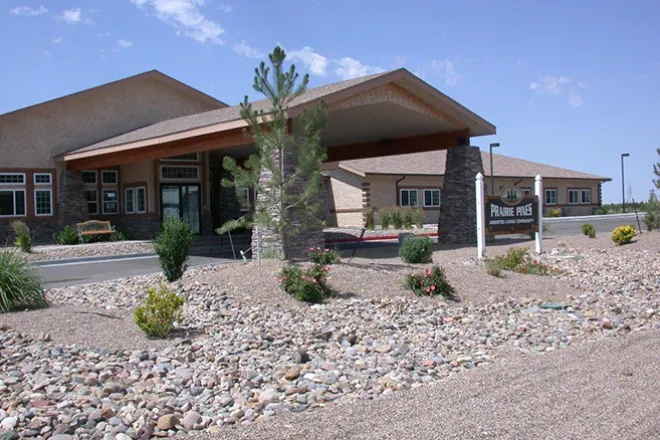 The Crow-Luther Cultural Events Center board has had several meetings this winter that I haven't been able to attend, so I do appreciate getting to read the minutes by Mary Vasquez. Their finances are growing, and they state that Cindy McLoud's work for grants for them has been invaluable. Cory Crow has fixed a big mechanical problem that saved them a lot of money. Let's all support our theatre and Ice cream shop.
Our sympathy is extended to the young couple, Blaine and Ashlynn (Miner) Winder, whose first baby daughter died a few days after birth. Baby Laikyn Grace was buried in Texas. Her grandparents, Tim and Angie Winder, and great grandmother, Alice Glover, live in Eads. Ashlynn's parents, Dave and Patty (Glover) Miner, live in Gruver, Texas.
Riki (Berry) Cordova and her friends are arranging and other egg hunt on the courthouse lawn April 16. It is wonderful to watch all this joy. Parents often dress their little ones up in their finest, the children gather and are instructed which area their age group goes for the hunt. It is a great photo time also. Please volunteer to help Riki and others, who do this out of the goodness of their hearts.
The Eads High School baseball team had a big win in their first game with Granada. Last week, they had two away games. It is good that two former Eads players have stepped up to coach this year. Tyler Rouse is the head coach. Tyler played on the Colby College team in Kansas for two years. His assistant coach, Chance Fowler, has been assisting the former coaches for the past several years. The next home games will be April 8 and 15.
In honor of National Library Week, we want to thank Kemma (Eikenberg) Alfano and Valorie Briggs for all the good work that they do at the county library. They offer many services and educational programs for people. LaDawn Britten is the Eads High School librarian who is always so helpful. Linda Offill and Pam Crow each are librarians two days per week in the elementary school library!
Tim and Gloria (Gaynor) Trosper took their four daughters on a long wonderful road trip during spring break. Since the girls wanted to go to church (First Christian in Eads) first they left right afterwards for Branson, Missouri. Climbing up the arch in Kansas City was a highlight for the girls, and touring the Noah's Ark in Tennessee was spectacular too. 
Zelda (White) Peterson died last week about month before she would have been 102 years old. Zelda was a tiny person and so full of cheer and goodness.
April 10 is Palm Sunday.