Image
About Town – November 13, 2023
"Let us not become weary in doing good." Galatians 6:9
Last week, when writing about Ranahan Electric, I misnamed one of the owners. It is owned by Cory Miller and Remington Brandt.
These days are sunny, lovely, and generally quite warm in Kiowa County and southern Colorado, except Halloween night when it was frigid! That may have been the reason for a small number of "Trick or Treaters." If they returned at night, there were yummy caramel apples, packets of hot chocolate, a cup, packets of corn to pop, candy, and other goodies. On their afternoon quick walk, they also visited offices in the bank, courthouse, Kiowa Pharmacy, Crow's Stop and Shop and other places. According to reports, Haswell folks were so pleased to have many people come from Eads and Karval to trick or treat this year.
The sad news in Haswell this week is that Marlynn Eikenberg died last Monday night. Marlynn is the beloved wife of Delton and mother of Casey Gibbs, Haley (Gibbs) Reedy, and Dusty Eikenberg. Marlynn was a school board member for many years for the Eads schools, and an esteemed C.N.A. at Weisbrod Hospital and Extended Care Unit, besides being a loving grandmother, and active community member of the Haswell and Eads communities.
Our community is also saddened to hear of the deaths of Gordon "Bud" Mast and Marlin Eder, both of Eads. In the Kit Carson Community, a long-time elementary teacher, Emma Rose (Hogan) Pearce, died last week.
The middle schools in all the area schools are in full swing in playing basketball. The Eads students have been quite successful in the Cheyenne Wells and Kit Carson tournaments.
During the month of November there are a number of Lamar Community College Students at Weisbrod who are shadowing, learning, and practicing skills. The people clad in turquoise and black are pre-nursing students with their instructor, Cara Reeder, and the people wearing burgundy scrubs are CNA students at LCC with instructor Chelsay Yoder.
Image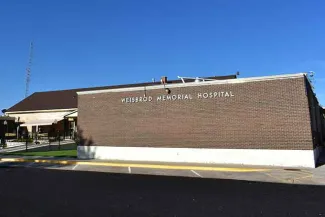 The Kit Carson Wildcat fans are wearing their purple and gold colors all week in anticipation of their girls competing in the state volleyball tournament.
It is so gratifying to read about our young people who continue to give back and reach out to others, such as our Eads High School graduate, Lori Beth (Weirich) Elder, of Tribune, Kansas, who led a group on a mission trip to Alaska last summer. One of the team members was 2023 EHS graduate, Lizabeth Buller. This fall, Lori is collaborating with other men and women to provide a store that young people - particularly children and teens who have been taken into foster care - can go to select clothes to their liking since they usually do not have sufficient clothes to wear.
Congratulations to Connor Lynch, an Eads High School junior, who has done so well as a runner with the Lamar Thunder cross country team. Isn't it wonderful that this young man can hone his skills in the lifelong sport that more of us Americans should be doing: walking and running!
The Eads senior citizens had a large group of folks who gathered for the first-Thursday of the month brunch. Since Sylvia Weeks drove the school bus, she came in earlier to help our director, Gail Voss, with the eggs, biscuits, and gravy. Tom Barton was there to lend a helping hand with stirring and serving. Gail will be baking three turkeys for Thanksgiving Dinner November 23 that were brought by Joe Schmitt' daughter and granddaughter, Marsha and Pam.
I encourage people to order a homemade pie for Thanksgiving dinner or to eat another day from the Prairie Pines Auxiliary. You can also order them at the Weisbrod Auxiliary Bazaar. Some key ladies to order from are Violet Sneyd or Tristen Sheridan at Prairie Pines Assisted Living Community.
Occasionally, people are invited to take their pets to the Weisbrod Extended Care Unit to visit residents. Last week, Barbie Stavely brought her charcoal gray and white fluffy Idaho Shag dog, Gypsy, to visit. Gypsy was wearing such a distinctive dog collar that Barbie purchased from Marla Darnell, who will have her fabulous wares at the Eads Bazaar also.
Jaxon Crawford and Yullisa Gutierttez were honored with a lovely bridal shower in Kit Carson last Sunday. They will be married November 25.
Celena Clark and her brothers, Travis and Tearle, hosted an 80th birthday party for their father, Dwight Lessenden, last Saturday at the Haswell School community center.
The Hospital Auxiliary met last week to finalize plans for the annual Fall Bazaar November 18 at the Kiowa County Community Building at the fairgrounds in Eads. There is no fee to enter to look at the lovely items for sale, and lunch. We hope to earn money to purchase items to make life better and happier for residents and patients, as well as staff, at Weisbrod Hospital.
Plans are being made for a festive "Merry on Maine" December 10 in Eads from 2:00 to 7:00 p.m. Besides vendors along Maine Street, the Kiowa County Fire Protection District members will host their annual chili supper at the Eads Senior Citizen Center with photo time with Santa Claus.
Thankful that we live in America!