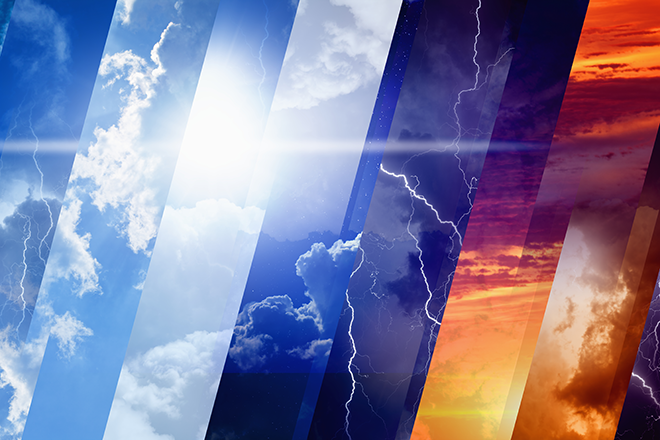 Published
Sunday, May 7, 2017
By Chris Sorensen
After a warm, dry weekend, the coming week brings an increasing chance of thunderstorms to eastern Colorado for continued drought relief, and a brief cool-down later in the week.
Sunday will see high temperatures in the 80s under mostly sunny skies, accompanied by a south wind increasing to the 15 to 20 mile-per-hour range later in the day. A slight chance of isolated thunderstorms enters the forecast in the afternoon, continuing into the evening. Small hail is possible. Winds begin to subside Sunday night. Lows will be in the 40s and 50s.
Thunderstorm potential increases Monday afternoon and evening as an upper low pressure system over the Baja peninsula helps feed moisture into Colorado. Temperatures will be in the 60s and 70s over much of eastern Colorado, with 80s possible over eastern border counties under mostly sunny skies. The potential for thunderstorms increases Monday evening until midnight.
The low-pressure system begins to shift toward Arizona and New Mexico Tuesday into Wednesday, increasing the potential for afternoon showers and thunderstorms. Highs for both days will be in the 70s across much of the region. Showers and thunderstorms are likely Wednesday night.
Temperatures cool Thursday, with highs in the 60s expected. Showers are likely during the first half of the day, then diminishing during the evening hours.
Daytime highs move back to the 70s Friday, and may returns to the 80s next weekend.