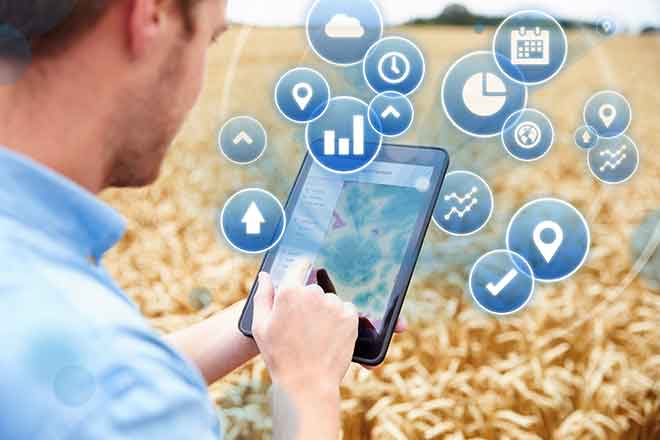 Published
Tuesday, April 9, 2019
Spring fieldwork advanced last week due to warmer and drier weather, according to the Mountain Region Field Office of the National Agricultural Statistics Service, USDA.
In northeastern and east central counties, calving and lambing progressed well since temperatures were warmer last week. Drier conditions allowed fieldwork to proceed, but reporters noted some fields were still too wet for fieldwork. Reporters mentioned winter wheat was actively growing; recent moisture improved the outlook for the crop.
In the San Luis Valley, barley planting picked up speed last week despite minor precipitation events. In southeastern counties, a drier week allowed fieldwork to progress well. Producers began using irrigation water, but some ditches were not turned on yet.
Statewide, winter wheat condition was rated 70 percent good to excellent, compared to 42 percent rated good to excellent last year.
As of April 5, 2019, snowpack in Colorado was 132 percent measured as percent of median snowfall. The Southwest and San Luis Valley were 154 and 146 percent, respectively.
Stored feed supplies were rated 2 percent very short, 18 percent short, 78 percent adequate, and 2 percent surplus.
Sheep death loss was 4 percent heavy, 49 percent average, and 47 percent light.
Cattle death loss was 7 percent heavy, 81 percent average, and 12 percent light.
CROP AND LIVESTOCK PROGRESS

Commodity

Current week

Previous week

Previous year

5-year average

(percent)

(percent)

(percent)

(percent)

Barley

Planted

19

3

9

13

Onions

Planted

2

--

10

19

Potatoes outside San Luis Valley

Planted

1

--

6

11

Sugarbeets

Planted

3

--

5

8

Winter wheat

Pastured

17

21

9

9

Jointed

6

1

3

6

Cattle and calves

Cows calved

71

58

67

70

Sheep and lambs

Ewes lambed

78

58

71

59

DAYS SUITABLE FOR FIELDWORK AND SOIL MOISTURE CONDITION

Current week

Previous week

Previous year

5-year average

Days suitable for fieldwork

5.5

3.9

5.9

5.8

Topsoil moisture

(percent)

(percent)

(percent)

(percent)

Very short

--

1

23

12

Short

5

6

39

29

Adequate

90

88

37

57

Surplus

5

5

1

2

Subsoil moisture

Very short

1

2

17

15

Short

12

15

30

30

Adequate

84

80

51

53

Surplus

3

3

2

2

CROP, LIVESTOCK, PASTURE AND RANGE CONDITION

Commodity

Current week

Previous week

Previous year

5-year average

(percent)

(percent)

(percent)

(percent)

Pasture and range

Very poor

2

2

19

10

Poor

7

10

22

24

Fair

49

54

32

34

Good

38

30

25

29

Excellent

4

4

2

3

Winter wheat

Very poor

--

--

5

7

Poor

3

5

14

14

Fair

27

29

39

33

Good

53

50

38

40

Excellent

17

16

4

6

Livestock

Very poor

1

1

--

--

Poor

3

3

1

2

Fair

22

23

21

21

Good

68

68

71

69

Excellent

6

5

7

8