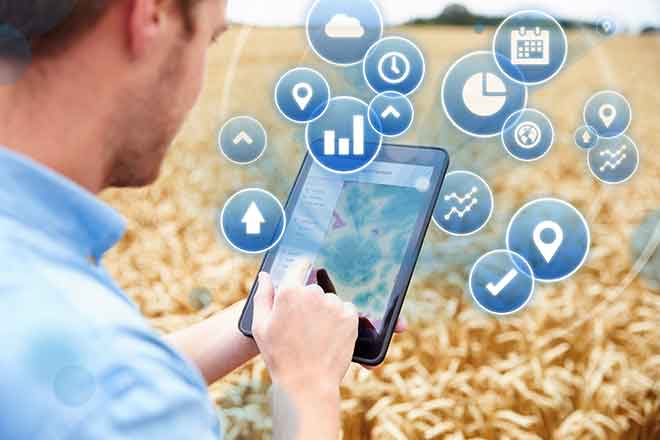 Published
Tuesday, July 9, 2019
Winter wheat harvest was underway in southeastern counties last week, and harvest in a few other counties began in a limited manner, according to the Mountain Region Field Office of the National Agricultural Statistics Service, USDA.
Wheat harvest was behind last year and the average. Spring crop development achieved significant gains last week due to increased heat units. Scattered thunderstorms brought isolated rain and damaging hail last week to eastern counties. Hot and windy conditions elevated fire danger, especially in western counties.
Northeastern county reporters noted isolated moisture was received and some areas received enough to delay fieldwork late in the week. Livestock were notably in good condition, although hot temperatures and wind last week were starting to dry out pastureland. Minor crop damaged was noted due to hail and high winds in areas.
In the San Luis Valley, rain was limited last week. A reporter mentioned harvest of first cutting alfalfa was nearing completion and dry weather aided baling of the crop. Lack of recent moisture was a concern for rangeland condition going forward.
In southeastern counties, a reporter noted enough rain was received to slow hay harvest. Rain and hail in several areas damaged some winter wheat acreage.
Statewide, winter wheat was rated 81 percent good to excellent, compared to 52 percent last year.
Stored feed supplies were rated 1 percent very short, 18 percent short, 75 percent adequate, and 6 percent surplus.
Sheep death loss was 3 percent heavy, 55 percent average, and 42 percent light.
Cattle death loss was 79 percent average and 21 percent light.
CROP AND LIVESTOCK PROGRESS

Commodity

Current week

Previous week

Previous year

5-year average

(percent)

(percent)

(percent)

(percent)

Alfalfa hay

1st cutting harvested

95

85

96

95

2nd cutting harvested

16

8

23

21

Barley

Headed

75

44

85

83

Turning color

11

4

12

13

Corn

Silked

1

NA

3

3

Dry edible beans

Planted

98

80

NA

NA

Emerged

89

54

88

NA

Blooming

11

NA

17

8

Proso millet

Planted

97

94

NA

NA

Sorghum

Planted

98

94

100

100

Emerged

85

74

96

NA

Sunflowers

Planted

93

87

98

95

Winter wheat

Turning color

90

70

97

NA

Mature

51

21

78

72

Harvested

10

1

42

30

DAYS SUITABLE FOR FIELDWORK AND SOIL MOISTURE CONDITION

Current week

Previous week

Previous year

5-year average

Days suitable for fieldwork

6.0

6.4

6.5

6.2

Topsoil moisture

(percent)

(percent)

(percent)

(percent)

Very short

4

3

21

10

Short

12

9

24

25

Adequate

80

81

53

61

Surplus.

4

7

2

4

Subsoil moisture

Very short

3

4

18

11

Short

18

12

25

21

Adequate

76

79

57

66

Surplus.

3

5

--

2

CROP, LIVESTOCK, PASTURE AND RANGE CONDITION

Commodity

Current week

Previous week

Previous year

5-year average

(percent)

(percent)

(percent)

(percent)

Alfalfa hay

Very poor

3

3

8

2

Poor

4

5

15

8

Fair

7

7

27

24

Good

69

72

45

51

Excellent

17

13

5

15

Barley

Very poor

4

1

1

1

Poor

12

3

1

1

Fair

29

18

31

19

Good

45

58

47

53

Excellent

10

20

20

26

Corn

Very poor

--

--

2

2

Poor

1

3

5

5

Fair

14

19

23

19

Good

67

69

65

61

Excellent

18

9

5

13

Dry edible beans

Very poor

--

NA

14

3

Poor

8

NA

16

6

Fair

32

NA

19

30

Good

53

NA

39

53

Excellent

7

NA

12

8

Onions

Very poor

--

--

--

1

Poor

--

--

--

2

Fair

7

3

34

18

Good

88

94

60

67

Excellent

5

3

6

12

Pasture and range

Very poor

1

1

23

8

Poor

4

3

28

14

Fair

18

16

25

25

Good

60

63

23

45

Excellent

17

17

1

8

Potatoes inside San Luis Valley

Very poor

--

--

--

1

Poor

10

3

4

4

Fair

30

23

16

18

Good

40

56

54

55

Excellent

20

18

26

22

Potatoes outside San Luis Valley

Very poor

--

--

--

--

Poor

2

2

5

1

Fair

18

19

5

9

Good

65

70

74

76

Excellent

15

9

16

14

Sorghum

Very poor

1

5

4

1

Poor

1

5

10

7

Fair

12

23

15

32

Good

74

59

70

57

Excellent

12

8

1

3

Sugarbeets

Very poor

--

--

2

1

Poor

1

--

7

3

Fair

17

26

20

16

Good

65

62

57

63

Excellent

17

12

14

17

Sunflowers

Very poor

--

--

NA

NA

Poor

--

--

NA

NA

Fair

16

13

NA

NA

Good

76

83

NA

NA

Excellent

8

4

NA

NA

Winter wheat

Very poor

1

1

4

8

Poor

3

4

15

12

Fair

15

17

29

29

Good

47

52

49

41

Excellent

34

26

3

10

Livestock

Very poor

--

--

--

--

Poor

2

3

2

1

Fair

12

15

16

14

Good

67

69

72

72

Excellent

19

13

10

13