Image
Ag stats: Colorado crop progress and condition report – week ending September 18, 2022
Near-normal temperatures in the mountains contrasted with above average temperatures across the eastern plains, where daytime highs hovered between 85-90 degrees during the week, according to the Mountain Region Field Office of the National Agricultural Statistics Service, USDA.
Portions of the mountains recorded overnight lows that dipped below 33 degrees, with comments from Grand, Routt, and Summit Counties noting diminished grasshopper populations due to freezing temperatures.
According to the U.S. Drought Monitor for September 13, just over 46 percent of the State was categorized in moderate drought or worse, unchanged from the previous week. Seventeen percent of the State is experiencing severe to exceptional drought conditions, also unchanged from last week. The exceptional drought conditions noted across portions of Phillips and Sedgwick Counties accounted for less than one percent of the State, virtually unchanged from last week.
Image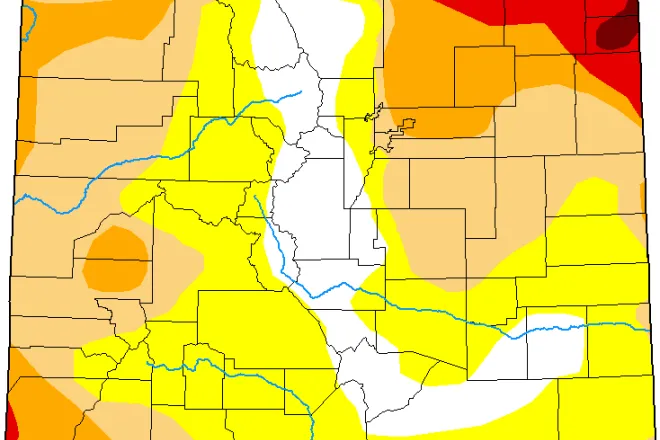 Ranchers with cattle grazing high-elevation summer ranges in several northwestern counties were busy bringing their herds back to cut hay meadows, where expectations were that recent rainfall would boost late-season growth in some grazed pastures if temperatures stayed reasonably warm in the next couple of weeks.
Elsewhere, barley harvest in the San Luis Valley was nearing completion, and the potato harvest was reported to be going well. Comments from the area indicated that many hay growers were nearly sold out of first cutting alfalfa hay.
Statewide, growers had sown 31 percent of the 2023 winter wheat crop, compared with 45 percent last year and a 5-year average of 34 percent.
Corn for silage harvest continued to progress quickly, with 20 percent of the crop cut during the week. With 20 percent of the crop mature, corn for grain harvest was expected to begin within the next week or so. Livestock were reported in mostly good condition.
Stored feed supplies were rated 7 percent very short, 23 percent short, 65 percent adequate, and 5 percent surplus.
Sheep death loss was 84 percent average and 16 percent light.
Cattle death loss was 4 percent heavy, 85 percent average, and 11 percent light.
CROP AND LIVESTOCK PROGRESS

Commodity

Current week

Previous week

Previous year

5-year average

 

(percent)

(percent)

(percent)

(percent)

Alfalfa Hay 

 
 
 
 

3rd cutting harvested 

80 

70 

80 

79 

4th cutting harvested 

24 

15 

24 

22 

Barley 

 
 
 
 

Harvested 

96 

80 

NA 

NA 

Corn 

 
 
 
 

Doughed 

95 

85 

95 

96 

Dented 

65 

46 

89 

82 

Mature 

20 

1 

34 

26 

Harvested for silage 

60 

40 

64 

60 

Dry edible beans 

 
 
 
 

Cut 

50 

25 

59 

55 

Harvested 

10 

1 

23 

23 

Onions 

 
 
 
 

Harvested 

50 

31 

72 

55 

Potatoes inside San Luis Valley 

 
 
 
 

Harvested 

20 

10 

17 

22 

Potatoes outside San Luis Valley 

 
 
 
 

Harvested 

55 

40 

65 

55 

Proso millet 

 
 
 
 

Harvested 

40 

19 

80 

NA 

Sorghum 

 
 
 
 

Turning color 

95 

81 

94 

84 

Mature 

28 

10 

37 

26 

Sugarbeets 

 
 
 
 

Harvested 

10 

NA 

22 

NA 

Winter wheat 

 
 
 
 

Planted 

31 

20 

45 

34 

Emerged 

9 

1 

14 

11 

DAYS SUITABLE FOR FIELDWORK AND SOIL MOISTURE CONDITION

 

Current week

Previous week

Previous year

5-year average

Days suitable for fieldwork 

6.5 

6.4 

6.5 

6.5 

Topsoil moisture 

(percent)

(percent)

(percent)

(percent)

Very short 

30 

20 

19 

13 

Short 

42 

51 

40 

34 

Adequate 

26 

29 

41 

52 

Surplus 

2 

-- 

-- 

1 

Subsoil moisture 

 
 
 
 

Very short 

36 

26 

28 

16 

Short 

26 

40 

37 

33 

Adequate 

28 

34 

35 

50 

Surplus 

-- 

-- 

-- 

1 

CROP, LIVESTOCK, PASTURE AND RANGE CONDITION

Commodity

Current week

Previous week

Previous year

5-year average

 

(percent)

(percent)

(percent)

(percent)

Alfalfa hay 

 
 
 
 

Very poor 

2 

5 

7 

6 

Poor 

5 

11 

10 

13 

Fair 

29 

20 

22 

21 

Good 

60 

56 

51 

52 

Excellent 

4 

8 

10 

8 

Corn 

 
 
 
 

Very poor 

20 

10 

10 

6 

Poor 

28 

19 

18 

12 

Fair 

30 

40 

28 

24 

Good 

20 

28 

36 

49 

Excellent 

2 

3 

8 

9 

Dry edible beans 

 
 
 
 

Very poor 

3 

1 

-- 

5 

Poor 

10 

6 

13 

14 

Fair 

18 

13 

36 

28 

Good 

36 

45 

35 

46 

Excellent 

33 

35 

16 

7 

Onions 

 
 
 
 

Very poor 

5 

4 

2 

NA 

Poor 

10 

7 

11 

NA 

Fair 

25 

25 

38 

NA 

Good 

60 

63 

43 

NA 

Excellent 

-- 

1 

6 

NA 

Pasture and range 

 
 
 
 

Very poor 

22 

15 

12 

13 

Poor 

28 

23 

21 

19 

Fair 

13 

20 

31 

27 

Good 

26 

32 

27 

35 

Excellent 

11 

10 

9 

6 

Potatoes inside the San Luis Valley 

 
 
 
 

Very poor 

5 

2 

5 

2 

Poor 

10 

3 

20 

10 

Fair 

25 

22 

32 

23 

Good 

45 

55 

37 

47 

Excellent 

15 

18 

6 

18 

Potatoes outside the San Luis Valley 

 
 
 
 

Very poor 

-- 

-- 

-- 

NA 

Poor 

-- 

-- 

2 

NA 

Fair 

60 

60 

35 

NA 

Good 

35 

35 

54 

NA 

Excellent 

5 

5 

9 

NA 

Sorghum 

 
 
 
 

Very poor 

4 

-- 

3 

4 

Poor 

15 

11 

8 

9 

Fair 

36 

48 

24 

28 

Good 

45 

41 

56 

52 

Excellent 

-- 

-- 

9 

7 

Sugarbeets 

 
 
 
 

Very poor 

-- 

-- 

-- 

1 

Poor 

-- 

-- 

-- 

4 

Fair 

50 

50 

25 

19 

Good 

50 

50 

50 

59 

Excellent 

-- 

-- 

25 

17 

Sunflowers 

 
 
 
 

Very poor 

15 

6 

-- 

3 

Poor 

15 

7 

10 

8 

Fair 

45 

58 

31 

28 

Good 

25 

25 

54 

54 

Excellent 

-- 

4 

5 

7 

Livestock 

 
 
 
 

Very poor 

-- 

5 

3 

1 

Poor 

1 

4 

6 

4 

Fair 

16 

7 

24 

19 

Good 

57 

65 

56 

66 

Excellent 

26 

19 

11 

10