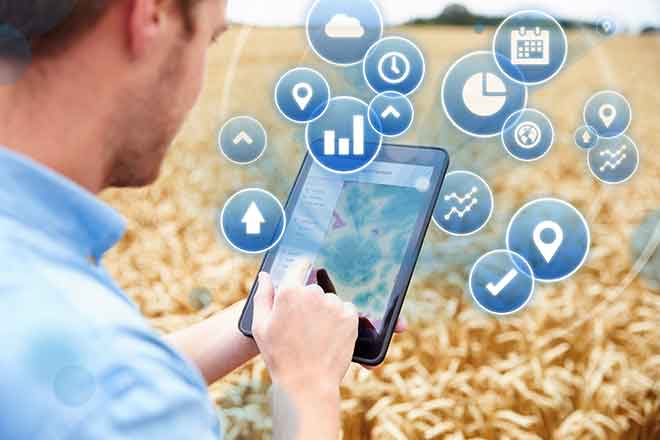 Published
Wednesday, October 16, 2019
Fall harvest made significant progress last week, amidst an early fall snowstorm, according to the Mountain Region Field Office of the National Agricultural Statistics Service, USDA. Several areas also observed their first hard freeze and record-low temperatures were set in many localities.
Northeastern county reporters noted sugarbeet harvest was fully underway last week, and harvest of corn, sorghum, and sunflowers also picked up. Freezing temperatures last week aided dry down of crops yet to be harvested, reporters noted. Counties in the area received scattered rain and enough snow to accumulate.
East central county reporters noted low temperatures between 10 and 15 degrees were observed, along with snowy and windy conditions. Producers continued fall seeding and harvest activities around inclement weather.
In southwestern counties, a reporter noted drought conditions worsened and minimal precipitation was received. According to the latest U.S. Drought Monitor report, severe drought was introduced across several southwestern counties and moderate drought conditions also expanded in northwestern counties.
In the San Luis Valley, producers rushed to wrap up fall potato harvest before the big freeze, according to county reporters. Although potato harvest approached completion mid-week, reporters noted producers who did not finish in time likely had some potatoes frozen. Precipitation was minimal. Observed temperatures were reportedly down to single digits.
In southeastern counties, reporters observed a very hard freeze, bringing crops to maturity. Corn harvest also started to pick up. Livestock producers continued seasonal weaning activities, but some heavy sickness in calves was observed due to the large temperature swings.
Statewide, stored feed supplies were rated 3 percent short, 80 percent adequate, and 17 percent surplus.
Sheep death loss was 2 percent heavy, 67 percent average, and 31 percent light.
Cattle death loss was 68 percent average and 32 percent light.
CROP AND LIVESTOCK PROGRESS

Commodity

Current week

Previous week

Previous year

5-year average

(percent)

(percent)

(percent)

(percent)

Alfalfa hay

4th cutting harvested

57

48

58

54

Corn

Mature

83

65

83

82

Harvested for grain

27

17

28

20

Harvested for silage

98

91

NA

NA

Dry edible beans

Cut

85

74

NA

NA

Harvested

52

42

91

77

Onions

Harvested

86

75

NA

NA

Potatoes inside San Luis Valley

Harvested

94

79

82

82

Potatoes outside San Luis Valley

Harvested

91

82

92

NA

Proso Millet

Harvested

94

85

NA

NA

Sorghum

Mature

82

59

68

68

Harvested

38

17

18

16

Sugarbeets

Harvested

49

31

24

30

Sunflowers

Harvested

41

8

7

9

Winter wheat

Planted

91

79

85

88

Emerged

63

50

65

61

DAYS SUITABLE FOR FIELDWORK AND SOIL MOISTURE CONDITION

Current week

Previous week

Previous year

5-year average

Days suitable for fieldwork

5.7

6.5

3.8

6.0

Topsoil moisture

(percent)

(percent)

(percent)

(percent)

Very short

15

10

6

6

Short

33

36

23

28

Adequate

52

53

70

64

Surplus.

--

1

1

2

Subsoil moisture

Very short

12

8

11

9

Short

28

30

28

28

Adequate

57

60

60

62

Surplus.

3

2

1

1

CROP, LIVESTOCK, PASTURE AND RANGE CONDITION

Commodity

Current week

Previous week

Previous year

5-year average

(percent)

(percent)

(percent)

(percent)

Alfalfa hay

Very poor

3

2

NA

NA

Poor

4

4

NA

NA

Fair

13

10

NA

NA

Good

65

76

NA

NA

Excellent

15

8

NA

NA

Corn

Very poor

1

--

2

1

Poor

8

6

6

4

Fair

27

22

24

22

Good

56

61

62

58

Excellent

8

11

6

15

Dry edible beans

Very poor

--

--

NA

NA

Poor

9

11

NA

NA

Fair

60

42

NA

NA

Good

29

46

NA

NA

Excellent

2

1

NA

NA

Pasture and range

Very poor

2

2

29

8

Poor

7

10

25

15

Fair

26

28

20

26

Good

58

51

24

43

Excellent

7

9

2

8

Sorghum

Very poor

1

1

4

1

Poor

3

2

6

7

Fair

28

26

25

30

Good

61

62

61

55

Excellent

7

9

4

7

Sugarbeets

Very poor

--

--

3

1

Poor

--

--

6

3

Fair

15

15

24

16

Good

71

76

51

62

Excellent

14

9

16

18

Sunflowers

Very poor

--

--

1

1

Poor

--

--

2

5

Fair

24

24

26

26

Good

70

66

66

56

Excellent

6

10

5

12

Winter wheat

Very poor

1

NA

2

NA

Poor

7

NA

8

NA

Fair

24

NA

32

NA

Good

45

NA

51

NA

Excellent

23

NA

7

NA

Livestock

Very poor

1

--

1

--

Poor

3

2

2

1

Fair

10

8

18

14

Good

73

75

69

74

Excellent

13

15

10

11