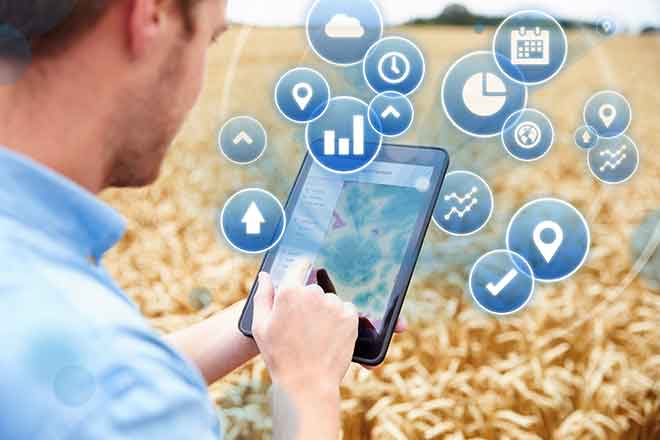 Published
Tuesday, June 28, 2022
Moisture levels were once again mostly below normal for the week ending June 26, 2022, according to the Mountain Regional Field Office of the National Agricultural Statistics Service, USDA. Only portions of the northwest, southwest, and minor parts of east central Wyoming received totals that were above normal.
Temperatures were also mostly below normal for most of the State. In isolated areas of the State, temperatures ran as much as 5 degrees below normal.
According to the United States Drought Monitor for June 23, 2022, the amount of land that was drought free stood at 7.8 percent, up from last week's 7.3 percent. The amount of land rated as abnormally dry was 28.5 percent, up from 28.1 percent last week. Moderate drought fell to 35.7 percent of the State, compared to 41.1 percent last week. Severe drought increased to 23.5 percent, compared to 19.0 percent last week. Extreme drought sat at 4.5 percent, unchanged from last week.
Hail hit some areas of southern Goshen County. Irrigation systems were up and running though days for use were cut back.
A report from Platte County indicated that though some showers were received, dryness prevailed and irrigation allocations were in place. Early hay cuttings in irrigated fields looked good, while non-irrigated fields and grasses remained patchy due to the dryness. More moisture was needed to end the drought.
Lincoln County had their first week of warm weather that was sufficient for good plant growth and growth soared in many forage fields. More irrigation water and sustaining rains were needed without the damaging effects of strong thunderstorms.
Irrigation water supplies across the State were rated 14 percent poor, 46 percent fair, 39 percent good, and 1 percent excellent, compared to 8 percent poor, 55 percent fair, 36 percent good, and 1 percent excellent last week.
Stock water supplies across Wyoming were rated 17 percent short and 83 percent adequate, compared to 1 percent very short, 10 percent short, and 89 percent adequate last week.
CROP AND LIVESTOCK PROGRESS

Commodity

Current week

Previous week

Previous year

5-year average

(percent)

(percent)

(percent)

(percent)

Alfalfa hay

1st cutting harvested

44

33

66

57

Barley

Jointed

83

70

93

91

Booted

60

34

71

66

Headed

43

20

59

41

Corn

Emerged

95

88

NA

MA

Dry edible beans

Planted

100

75

NA

NA

Emerged

65

52

82

81

Blooming

1

--

--

NA

Other hay

1st cutting harvested

23

5

32

29

Winter wheat

Booted

91

75

93

92

Headed

55

28

55

54

Coloring

17

3

9

NA

DAYS SUITABLE FOR FIELDWORK AND SOIL MOISTURE CONDITION

Current week

Previous week

Previous year

5-year average

Days suitable for fieldwork

7.0

6.7

6.3

6.5

Topsoil moisture

(percent)

(percent)

(percent)

(percent)

Very short

20

23

16

12

Short

33

24

51

30

Adequate

45

51

31

56

Surplus

2

2

2

2

Subsoil moisture

Very short

22

22

32

15

Short

35

27

33

26

Adequate

42

50

34

58

Surplus

1

1

1

1

CROP, LIVESTOCK, PASTURE AND RANGE CONDITION

Commodity

Current week

Previous week

Previous year

5-year average

(percent)

(percent)

(percent)

(percent)

Alfalfa hay

Very poor

--

--

1

1

Poor

4

4

12

7

Fair

24

25

34

23

Good

68

67

46

61

Excellent

4

4

7

8

Barley

Very poor

--

--

1

--

Poor

9

13

1

3

Fair

16

13

23

12

Good

75

74

74

82

Excellent

--

--

1

3

Corn

Very poor

--

--

--

--

Poor

--

--

--

2

Fair

20

17

19

14

Good

78

83

79

82

Excellent

2

--

2

2

Dry edible beans

Very poor

--

--

--

--

Poor

13

14

--

2

Fair

48

57

10

10

Good

38

29

87

85

Excellent

1

--

3

3

Other hay

Very poor

--

--

3

1

Poor

2

2

7

5

Fair

12

10

57

25

Good

84

86

29

67

Excellent

2

2

4

2

Pasture and range

Very poor

4

2

12

5

Poor

18

14

30

14

Fair

30

27

38

26

Good

48

57

19

51

Excellent

--

--

1

4

Sugarbeets

Very poor

--

--

--

--

Poor

--

--

11

6

Fair

14

22

24

17

Good

85

78

64

76

Excellent

1

--

1

1

Winter wheat

Very poor

7

8

1

5

Poor

33

36

8

8

Fair

48

48

63

37

Good

12

8

27

46

Excellent

--

--

1

4

Livestock

Very poor

--

--

--

--

Poor

3

3

2

1

Fair

11

10

24

12

Good

84

86

73

83

Excellent

2

1

1

4