Image
USDA Update – January 18, 2022
IMPORTANT DATES TO REMEMBER:
JANUARY 30, 2022 - 2021 LIVESTOCK FORAGE PROGRAM - January 31, signup deadline. 
FEBRUARY 28, 2022 - DEADLINE TO FILE APPLICATION FOR PAYMENT - 2021 LIP 'LIVESTOCK INDEMNITY PROGRAM'.   
MARCH 15, 2022 - 2022 ARCPLC Election and Enrollment Deadline
Disclaimer:  Information in this UPDATE is pertinent to Kiowa County FSA only.  Producers reading this and that do not have FSA interest in Kiowa County are advised to contact their local FSA Office. 
THE USDA SERVICE CENTER HAS A DROP BOX AVAILABLE ON THE EAST SIDE OF THE BUILDING. 
COVID-19 UPDATE - The USDA Service Center received instructions last week that all customers visiting any Service Center will be required to wear a mask, regardless of vaccination status. 
PRODUCER PAPERWORK
The office has a number of producers who have been sent farm or eligibility forms that need to be signed and the office has not received the signed document back in the office.
We ask that when you receive an email or an envelope that contains paperwork that needs your signature; that you please complete any required items promptly and return it to the office.  The office staff spends time sending out reminders or calling the producer; time that could be used in other programs.  
DROUGHT MONITOR
The current drought monitor reflects nearly all counties in the eastern half of the state in a D2 – severe drought or D3 – extreme drought intensity.  Kiowa county is currently in D2 – severe drought intensity.  
Image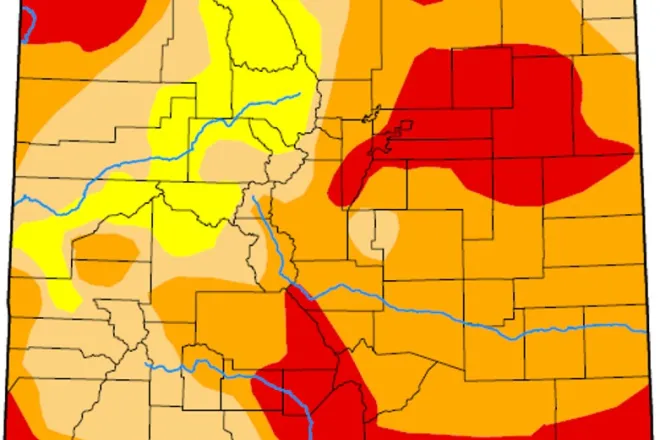 CRP EMERGENCY GRAZING 
Many eastern Colorado counties are eligible for Emergency grazing of eligible CRP acres.  If interested in Emergency grazing of CRP; we encourage producers to contact your local FSA office for more information.  
Currently producers can graze at 100% stocking rate until March 15th, which is the beginning of the Primary Nesting season for wildlife.  Producers can request to graze during the primary nesting season if all of the following occur: 
Payments are authorized for the county under Livestock Forage Program or LFP
NRCS grazing plans are written at 50% of the normal carrying capacity. 
Haying is not authorized during PNS or primary nesting season. 
Ineligible acres are: SAFE or State Acres for Wildlife Enhancement acres.   In Kiowa those are acres enrolled into the Lesser Prairie Chicken SAFE CRP program.  
NRCS will be required to make a site visit to determine if the acres can be grazed.   
AT NO TIME CAN FEEDING OF BALES BE ALLOWED ON THE CRP ACRES.