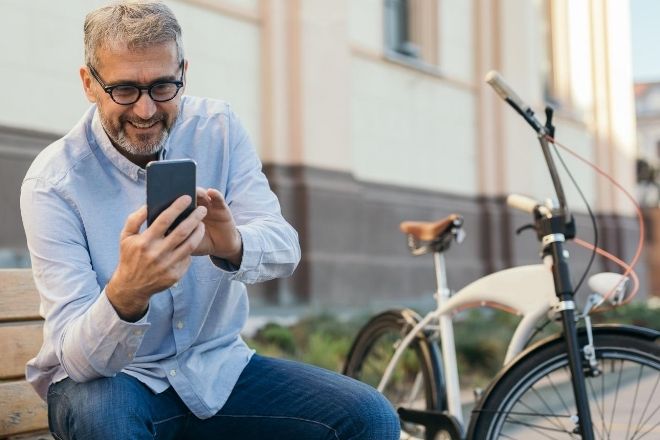 Published
Monday, August 10, 2020
There's an app for almost everything that can be measured, mapped, or gamified. Cycling is no exception. Whether you ride a bike to win a race or just to get from point A to point B, you can use one or more of these best cycling apps for your smartphone.
Apps for maps and routes
Trailforks is a go-to app for mountain bikers and trail riders. You can search for trails by hovering over a map and see popular trails and their required skill levels. The MTB project is another darling of mountain bikers that also uses crowdsourcing for trail information. Cell service can be choppy in the mountains, so you can use the app offline with downloaded maps. Novice mountain bikers contemplating buying a quality mountain bike should couple a great navigation and routing map to avoid getting lost in the woods.
Komoot is the choice of many reviewers for route planning, providing routes based on the type of bike you're riding and your fitness level. All it needs to know is where you start and where you want to end up, and it will generate a route for you, complete with suggestions of where to get some refreshments along the way. Citymapper helps urban dwellers find fast or quieter routes and notes the location of rental bikes for those who need to borrow wheels.
Apps that measure performance and provide challenges
Strava is the app of choice for serious cyclists who crave metrics to describe their performance on each ride. The premium version provides calculations of your pedaling power and your heart rate, while the free version offers comparisons with others who have ridden your route. You can track speed and elevation (for mountain bikers) and organize group rides. Racers love to ride "Strava segments" that the app creates and deploys like an electronic contest organizer.
Another popular tracking app is Map My Ride, which allows you to create your own challenges for friends and look at routes others like to ride, along with saving and creating your own routes.
Training apps
Cyclemeter turns your phone into a kind of bike computer for training. If you're the private type, you don't have to upload data for analysis--Cyclemeter stores the data on your phone. Zwift livens up the drudgery of stationary, indoor cycling with digitized trails and, with the right compatible turbo training accessories, offers the opportunity to compete against other riders in real time.
Trainingpeaks helps athletes and coaches track and measure performance on the go. The app facilitates communication between coaches and their proteges, with a famed performance management chart that provides a visual picture of training over time using measures of fatigue as well as fitness levels.
There are dozens more popular mapping, routing, and performance measurement apps for cyclists, along with apps that call for help in emergencies. Most popular cycling websites and magazines will provide plenty of suggestions for the best cycling apps, depending on your needs.