Image
Biodynamic farming views farms as living organism for greater sustainability
(Nebraska News Connection) On a small farm in Omaha, Nebraska, spring is making its presence felt. Patches of snow melt, flowers rise from their beds and a pair of Canadian geese nest in the tilled fields.
"It's the same pair, and they come back every year for about three weeks," said Mark Brannen, co-owner of Benson Bounty.
From the outside, the 1.5-acre homestead, bordered by homes and a car lot, may not seem like much. But since 2015, Mark Brannen and his wife, Michelle, have managed to foster a complex ecosystem amid the variety of herbs, vegetables and other produce they grow and sell. By rotating crops, planting cover crops, using homemade compost and limiting outside inputs, they've created a sustainable system - and they've done it using many of the key principles of an agricultural approach known as biodynamic farming.
Image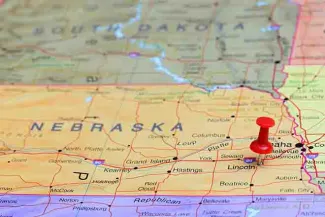 "One of the biggest things for me ... is the focus on the farm as a whole system," Brannen said.
Biodynamic farming utilizes the relationships between plants, animals and soil to turn one's waste into another's energy and eliminate the need for chemical fertilizers or pesticides. Practices include only treating crops with compost and water as well as setting aside land for biodiversity and natural habitats.
Not only do these practices create more sustainable farms, but they also could help fight climate change. Organic farming, closely related to biodynamic farming, requires significantly less energy and produces less greenhouse gasses, such as nitrous oxide and methane, than conventional agriculture. And while these practices represent a tiny portion of all farms in the U.S., interest is growing and advocates say the mission couldn't be more important.
"It's about healing the earth - the plant communities, the animal communities, as well as the human community," said Evrett Lunquist, director of Certification for Demeter Association, Inc., and co-owner of the Common Good biodynamic farm near Raymond, Nebraska.
The Missing Piece
While Lunquist studied agronomy as a college student many years ago, he came across biodynamic agriculture in a comparison study between two farms. The idea that farms could work with, rather than against, the environment clicked with him.
"It was the piece that had been missing in my college studies," Lunquist said.
The early concepts of biodynamic farming were articulated in 1924 when Austrian scientist and philosopher Rudolf Steiner gave a series of lectures to European farmers who were noticing a quick decline in soil conditions, crop quality and animal health after using chemical pesticides.
Steiner presented the farm as a living organism sustained by the relationships between its crop growth, soil vitality and livestock. In 1928, The Demeter Biodynamic® Standard for certification was established and is currently regulated by Demeter International.
Image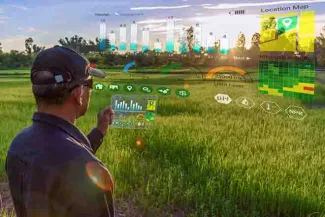 Today the number of biodynamic farms is on the rise, increasing globally by more than 47 percent between 2000 and 2018. There are currently about 140 certified farms in the U.S., according to Lunquist, and just two in Nebraska. Those numbers don't include farms such as Benson Bounty, which implements many biodynamic practices but is not certified.
The Demeter Biodynamic Farm Standard requires the whole farm be certified, not just a specific crop, which could be the case on an organic farm where single fields can be certified at a time.
While organic certification mainly outlines the materials that can and cannot be applied to the soil and its crop, biodynamic certification looks at how all the components of the farm interact, outlining both requirements and principles.
In addition, biodynamic farms must dedicate at least 10 percent of their land as a wildland reserve, generating the farm's own fertility. They also use biodynamic preparations, such as field sprays, composting and cow manure, to fertilize crops and control pests with farm-generated solutions rather than insecticides. The end result is not only higher-quality food, but also an improved ecosystem as the farm recycles its own resources.
"Instead of having a huge carbon footprint, you're actually refocusing on having a carbon-negative footprint," Lunquist said.
Image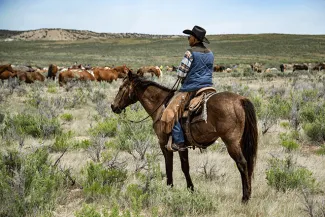 For Beth Corymb, the approach aligns perfectly with Nebraska farmers' long-held commitment to stewardship of the land. She and her husband, Nathan, run Meadowlark Hearth, a 540-acre biodynamic farm in Scottsbluff. About 150 acres of the farm is a nature reserve. In 2010 the Corymbs also started a biodynamic seed company.
Corymb said biodynamic farming encourages farmers "to look at the earth as a living being."
"That thought process helps to approach the earth in a different way," she said.
Though the number of certified biodynamic farms is tiny in comparison to organic (an industry that comprised 17,445 certified farms in 2022), its practices can still have value without a certification.
For Brannen, biodynamic practices have made a big difference in his soil health. By composting his farm's plant and animal waste, as well as using sustainable planting practices, he's not only getting the nutrients he needs but is also promoting a lively ecosystem below the soil.
"If you just worry about creating a healthy environment for soil microbes, then everything else kind of takes care of itself," Brannen said.
Lunquist said that's the fundamental inspiration behind biodynamics - recognizing that soil produces more than just a chemical reaction.
"If you're taking chemical fertilizers and putting it on the soil, you effectively have a hydroponic crop production system," Lunquist said. "There is nothing that the soil is providing to the health and vitality of the plant."
Buying Biodynamic
Biodynamic products can be purchased through a variety of channels.
The Corymbs sell their produce at farmers' markets, as well as through Community Supported Agriculture, or CSA. In these farm-run programs, consumers purchase shares of the coming harvest's crop in advance and then during harvesting season they receive weekly boxes of fresh produce.
While Lunquist and his wife have used farmers' markets and CSA in the past, their current channels consist of email lists, retail stores and grocery co-ops, such as Open Harvest in Lincoln, which has sold their eggs, produce, meat and plant seedlings for more than 24 years. 
Benson Bounty sells its herbs to local Omaha markets and restaurants. The Brannens also send out weekly emails for what they have in stock.
Image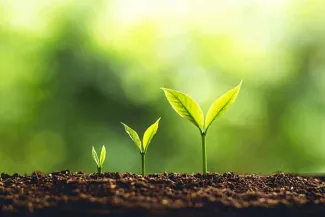 "We have a lot of people who shop from us in the neighborhood, so they will bike or walk down," Brannen said.
He said customers have noticed a difference in the herbs from their farm - they are fresher than the majority of herbs in the U.S., which are imported from foreign markets.
Lunquist also sees the value in buying locally, especially when customers become acquainted with the farm's name.
"When you eat the food, it's nourishment," Lunquist said. "But then there's another nourishment that comes from eating food where you have either been to the farm or you know the farmer. It is part of the experience."
Obstacles to Biodynamics
Because biodynamic farms are diverse and self-sustaining, they often require more labor than conventional farms that specialize in specific crops or animals.
Space can also be an issue.
"One of the challenges is being able to produce all the inputs that we need here on the farm because we are on a smaller space," Brannen said.
While Benson Bounty has chickens, housing more animals such as cattle and goats would be impossible without more room.
Organic and biodynamic farming also often produce lower yields than conventional farms - as much as about 20 percent lower, according to a 2014 study from the University of California, Berkeley.
Image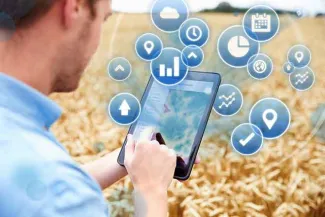 This has led to scrutiny of whether alternatives to conventional farming practices should play a larger role in the global agricultural system. However, studies show despite lower yields, biodynamic farming is more profitable, creates more jobs and is better for the environment. Additional research to close the yield gap, or changing consumption patterns to more plant-based diets, could make alternatives much more palatable.
Public policy could also help transition more farms to sustainable practices as the global population, demand for food, and the effects of climate change increase.
"We are looking forward to more sustainable growth," Lunquist said.
'A Continual Learning Process'
The Brannens' first taste of biodynamic farming came while working on an organic farm in Panama in 2012. Eleven years later, they continue to implement the biodynamic practices they learned there as well as share the knowledge they've cultivated with others.
The rewards have been bountiful. They're shielded from the risks of outside markets while creating a healthy, productive farm that's been their full-time job for close to a decade. Now their three kids, ages 8, 6 and 2, are helping by planting crops, churning compost, collecting eggs or doing any number of other odd jobs.
Image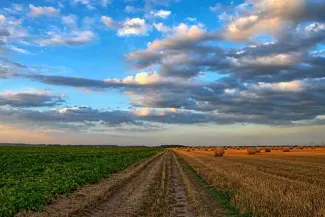 It's harder this way, Brannen said. Working without shortcuts means more trial and error, but the more you listen and adapt, the more the land can give back."That's what farming is," Brannen said, "a continual learning process."
Ellie Kuckelman wrote this article for The Reader.