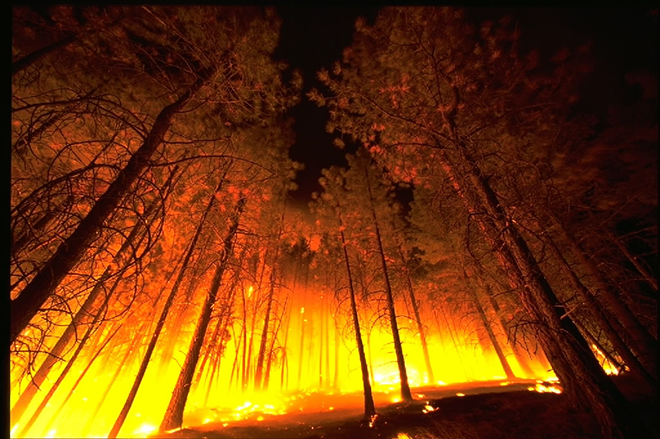 Published
Saturday, October 26, 2019
By Derek Draplin | The Center Square
The U.S. Bureau of Land Management on Thursday removed fire restrictions in nine counties in southern and central Colorado.
The BLM says it removed Stage 1 and 2 restrictions, first put in place October 4, on bureau-managed lands in Alamosa, Chaffee, Custer, El Paso, Fremont, Lake, Park, Saguache, and Teller counties.
"Recent snows and cooler temperatures have lessened the fire danger throughout the region," the bureau said. The restrictions were implemented due to "an unseasonably dry and windy fall."
The Gunnison, San Luis Valley and Royal Gorge field offices now no longer have fire restrictions in place.
Stage 1 fire restrictions prohibit the "building, maintaining, attending or using a fire or campfire except within agency-provided fire grates at developed recreation sites."
Stage 2 fire restrictions prohibit the "building, maintaining, attending, or using a fire, campfire, charcoal barbecue, or grills are prohibited on federal lands."
Bureau officials still warned the public to be careful when tending fires on BLM land.
"A lower fire danger doesn't mean no fire danger," BLM Front Range Fire Management Officer Ty Webb said. "Conditions vary by day and by location, we urge the public to be careful with fire and use common sense."
The bureau said despite the removal restrictions on lands it manages, counties still may have restrictions in place.
Fire officials remind visitors to practice fire safety:
Keep campfires small and under control.
Ensure that campfires are dead out. If it's too hot to touch, it's too hot to leave.
Keep a shovel and water nearby to douse escaped embers.
Do not park or idle vehicles in tall dry grass. The heat from the vehicle can spark a wildfire.
Do not allow chains to drag from vehicles or towed trailers.
Fireworks are never allowed on federally managed lands.
While restrictions have been lifted for BLM lands in these counties, counties may still have restrictions in place. Users are encouraged to check with local authorities to determine where restrictions may apply.