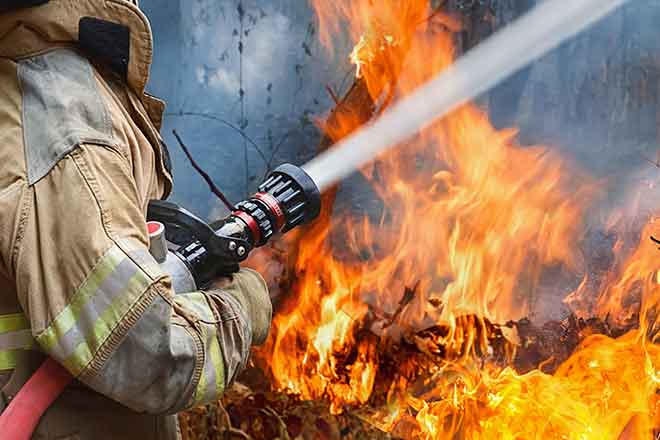 Published
Friday, October 25, 2019
Wildfire activity in Northern and Southern California has significantly ramped up in the past 48 hours. From the massive Kincade Fire in Sonoma County to the Tick Fire and the Old Water Fire forcing widespread evacuations farther south, the blazes are stretching fire departments thin around the state.
Diablo winds in the north and Santa Ana winds in the south have fueled the rapidly growing blazes. AccuWeather Senior Meteorologist Alex Sosnowski explained that Santa Ana winds are high-speed and dangerous winds that blow from the mountains to the coast in Southern California. The phenomenon typically peaks in October but can occur anytime from late to early spring.
"A Diablo wind occurs around the San Francisco Bay region and is produced by the same mechanism that produces a Santa Ana wind," Sosnowski said. "This wind is magnified by terrain effects similar to a Santa Ana. The wind almost always brings a great surge in temperature and dry air."
The wildfires around the state have caused widespread school cancellations and pulled thousands of firefighters into the action.
For the second time this month, power companies made the unpopular decision to perform a "Public Safety Power Shutoff," as power company Southern California Edison framed it. As of Friday morning, 21,154 SCE customers found themselves in the dark.
In Northern California, Pacific Gas & Electric Co. similarly decided to shut down the power on Wednesday afternoon. However, in a filed incident report from the Sr. Director of PG&E, the company was aware of a tower malfunction 9:20 p.m. Wednesday night. Cal Fire reports that the Kincade Fire started at 9:27 p.m. Wednesday night.
"We didn't see the wind speeds in the forecast that we typically would see for transmission outage," said PG&E CEO Bill Johnson at a press conference. "We relied on the the protocol and we still at this point do not know exactly what happened... The fact that we filed this [report], does not tell us what caused the fire."
The Northern Californian blaze, dubbed the Kincade Fire, has burned more than 21,900 acres near Sonoma County since it erupted around late Wednesday night. On Friday, only 5% of the fire was contained.
Mandatory evacuations have been ordered for the entire town of Geyserville, California, and the area east of the town. Officials said more could be issued. Geyserville is located about 75 miles north of San Francisco.
In terms of overall economic impact to California, wildfires in 2019 won't be as costly as they were in 2018, AccuWeather Founder and CEO Dr. Joel. N. Myers said on Friday. Myers estimated that wildfires this year will cost California $100 billion in economic losses, one-quarter of last year's impact, but higher than the $85 billion wildfires cost in 2017.
"This estimate, which includes both insured and uninsured losses, is far greater than our estimate for the 2018 wildfire season, but far less than our estimate for 2017," Myers said. "Last year was a terrible year for wildfires in California, but the season ended earlier. This year it will end later than usual," he added.
Although wildfires have scorched only 210,000 acres across California in 2019 as of October 25 - a far cry from the 1.8. million acres burned last year and the 1.3 million burned in 2017 - Myers emphasized that planned power outages this year are affecting more people and, though they may prevent fires from starting, also come with an economic cost.
"Power outages are more of a factor this year," Myers said of the planned blackouts. "That will result in a significant cost per customer per day as power utilities implement blackouts as a precaution throughout the state."
AccuWeather forecasters believe about half a million acres in California could be scorched by the end of fire season, which should conclude in mid-December. AccuWeather's economic impact estimate is drawn from an in-depth analysis of the population of areas burned by wildfires, amount of acres burned, and the number of businesses and homes damaged or destroyed. The analysis takes into account a host of other factors like school closures, insurance costs and state funds devoted to battling the fires.
The Kincade Fire wildfire ignited in a remote area of northeastern Sonoma County. According to the National Weather Service (NWS), a gust of 76 mph was recorded near John Kincade Road, where the fire started, on Wednesday night. The cause of the blaze is still under investigation.
PG&E shut off power for nearly 180,000 residents in the Northern California region to prevent fires from being sparked by power lines. On Thursday, the company said that there had been an issue in a transmission tower near where, and around the same time, the fire had started. Although PG&E had shut down power to homes, transmission lines had still been active. It is unclear at this time if this was the cause of the fire.
1/11
Due to the power outages, firefighters were forced to go door-to-door in order to spread the word for evacuations. As of Thursday evening, 5% of the wildfire was contained.
The wind-driven brush fire has destroyed 49 structures and required efforts from 38 crews with over 1,300 personnel to battle the blaze, according to Cal Fire.
In Southern California, a brush fire exploded from 200 acres to over 4,000 acres in less than 24 hours. Located near Tick Canyon Road, the Tick Fire is running downhill. according to the L.A. County Fire Department. The blaze has threatened structures with three helicopters on the scene.
At 7 p.m. PDT Thursday, authorities had ordered at least 50,000 people to evacuate as the fire crept closer to neighborhoods north of Los Angeles, according to the Associated Press.
The Tick Fire jumped the 14 Freeway early Friday morning, forcing the roadway to be shut down in both directions.
As mandatory evacuations went into effect for areas around the brush fire, families and businesses began to scramble to leave. The Gentle Barn is one of the areas under mandatory evacuation. The farm animal sanctuary posted on Twitter, asking for help in evacuating the animals, which includes large animals such as horses and cattle.
Mandatory evacuations were also enacted for areas of San Bernardino in Southern California due to the Old Water Fire.
Around 12 p.m. PDT Thursday, voluntary evacuations had been lifted, and the fire was 30% contained by 4:30 p.m. PDT after burning 105 acres, according to the San Bernardino County Sheriff's Department.
The blaze has forced class cancellations at the Cal State San Bernardino campus, which is located just five miles from the fire. All Los Angeles Unified schools in the San Fernando Valley will be closed on Friday, Oct. 25, due to air quality and safety concerns from the fires.
Southern California Edison shut off power to over 15,000 residents in the region on Thursday morning. According to the company, over 286,000 total customers are in locations at risk for a power shutoff.
With temperatures forecast to be in the 90-degree range with low humidity, the NWS issued red flag warnings through 5 p.m. Friday for San Bernardino and much of Southern California.
By this weekend, lower temperatures should assist firefighters as they battle the flames, but winds will remain a steady opponent. AccuWeather Senior Meteorologist Dan Pydynowski said if the fires are not contained by Saturday night, the increasing wind speeds could pose a major obstacle for crews.
"It [will remain] very warm and dry [Friday] but the wind will lessen, helping fire crews out," Pydynowski said, adding that it will still be warm Saturday with highs in the 80s before it gets cooler with highs in the 70s Sunday.
"Humidity will be a bit higher on Saturday too which is good for fire crews. Winds will increase again from the north behind a cold front Saturday night into Sunday."
AccuWeather Senior Meteorologist Alyson Hoegg added that the wind event, which is expected to last from Saturday night to Sunday night, could be even stronger and reinvigorate ongoing blazes. The winds for the fire are being fed by the Diablo winds.
In Marin County, near Sonoma County, the Muir Fire broke out on Thursday afternoon and has burned at least 58 acres and is 20% contained as of 4 p.m. PDT, according to the Marin County Fire Department. No structures are threatened and no evacuation orders have been issued, the department said. However, a section of Highway 1 was closed down.
California Gov. Gavin Newsom took to Twitter to thank the firefighters who are battling the blaze and to urge residents in evacuation areas to follow directions of local authorities.
"Thank you to all the firefighters & first responders who are on the scene, working to contain the #KincadeFire," Newsom said. "The images coming out of the area are devastating. Evacuations are underway now. If in the area, please follow directions of local authorities."