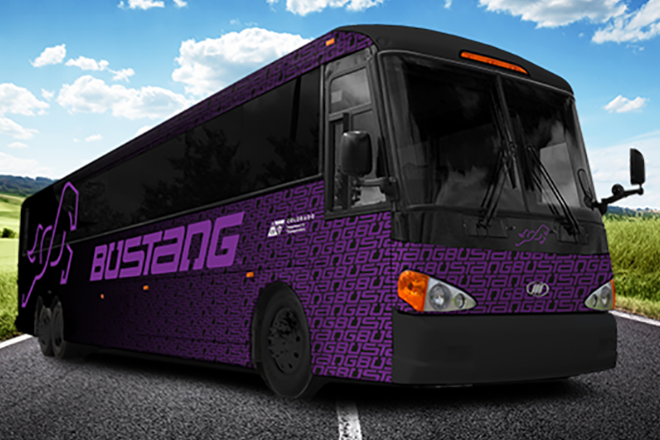 Published
Wednesday, December 12, 2018
The Colorado Department of Transportation's Bustang Outrider service begins service between Pueblo and Colorado Springs Monday, December 17, allowing passengers from the Arkansas and San Luis valleys and elsewhere to travel to Denver, Fort Collins, Grand Junction and other locations in the state.
By extending the current Outrider route between Lamar and Pueblo to Colorado Springs, passengers will be able to connect to the current Bustang stop at the Nevada/Tejon Park-n-Ride in Colorado Springs.
"This is a natural and much-needed connection for southern Colorado to have," said CDOT's Director of Transit and Rail David Krutsinger. "By linking Pueblo to Colorado Springs, it'll close a vital gap and give passengers a lot more options to travel around the state."
Linking to Bustang in Colorado Springs will allow travelers from southern Colorado to go to Denver's Union Station and link to:
RTD's bus and rail service in the Denver Metropolitan Area, including the Train to the Plane (A Line to DIA) and the Flatiron Flyer to Boulder
Bustang's Interstate 70 route to Grand Junction, with stops at a number of locations, including Frisco, Vail and Glenwood Springs
Bustang's I-25 North Route to Fort Collins
"Extending Outrider to Colorado Springs helps fulfill our mission to provide intra-state transit services to people living in rural areas and beyond the I-25 corridor," added Krutsinger. "This will give them more options when they need to travel for medical services, recreational activities and more."
Passengers can pay their fare when boarding the bus using cash only (no bills larger than $20) and also purchase tickets on all buses from each Park-n-Ride that Bustang and Outrider serves.
Bustang and Outrider coaches are climate controlled, have free WiFi (where available), a restroom and bike rack, power outlets and USB ports, and are handicap accessible.
More information about routes and schedules is available at www.ridebustang.com.