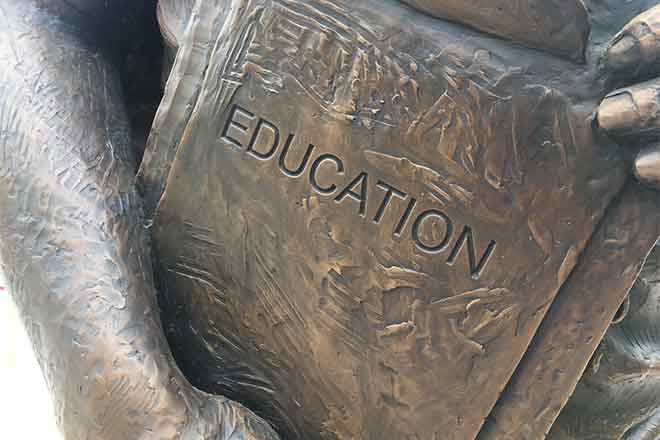 Published
Friday, January 31, 2020
Fourth graders in Colorado on average scored 242 on a standardized math test administered last year, which is two points above the 2019 national average calculated by the National Assessment of Educational Progress (NAEP).
The Colorado students' average score ranked in a tie for 15th among the 50 states and the District of Columbia.
Among the fourth graders in Colorado who took the assessment, 80 percent tested at or above the basic achievement level, while 44 percent tested at or above the proficient level, according to the analysis.
In total, fourth graders in 15 of the jurisdictions had average scores above the national average. And 20 jurisdictions had average scores that didn't vary significantly with the U.S. average, according to the study, while 17 posted average scores that were well below the national average.
The NAEP uses the academic results of such tests to improve public education in the U.S. The effort is carried out under the direction of the U.S. Department of Education.
4th-Grade Math Scores, State by State
| | | | | | |
| --- | --- | --- | --- | --- | --- |
| Rank | Jurisdiction | Average Score | Points Above or Below Average Score | At or Above Basic Achievement Level (%) | At or Above Proficient Achievement (%) |
| 1 | Minnesota | 248 | 8 | 85 | 53 |
| 2 | Massachusetts | 247 | 7 | 85 | 50 |
| 2 | Virginia | 247 | 7 | 87 | 48 |
| 4 | Florida | 246 | 6 | 87 | 48 |
| 4 | New Jersey | 246 | 6 | 85 | 48 |
| 4 | Wyoming | 246 | 6 | 87 | 48 |
| 7 | Indiana | 245 | 5 | 84 | 47 |
| 7 | New Hampshire | 245 | 5 | 86 | 46 |
| 8 | Pennsylvania | 244 | 4 | 81 | 47 |
| 8 | Utah | 244 | 4 | 82 | 46 |
| 8 | Nebraska | 244 | 4 | 84 | 45 |
| 8 | Texas | 244 | 4 | 84 | 44 |
| 13 | Connecticut | 243 | 3 | 82 | 45 |
| 13 | North Dakota | 243 | 3 | 84 | 44 |
| 15 | Idaho | 242 | 2 | 82 | 43 |
| 15 | Colorado | 242 | 2 | 80 | 44 |
| 15 | Wisconsin | 242 | 2 | 80 | 45 |
| 18 | North Carolina | 241 | 1 | 82 | 41 |
| 18 | South Dakota | 241 | 1 | 83 | 43 |
| 18 | Ohio | 241 | 1 | 82 | 41 |
| 18 | Montana | 241 | 1 | 82 | 43 |
| 18 | Maine | 241 | 1 | 81 | 42 |
| 18 | Mississippi | 241 | 1 | 84 | 39 |
| 18 | Iowa | 241 | 1 | 81 | 42 |
| 25 | Tennessee | 240 | 0 | 79 | 40 |
| 25 | Washington | 240 | 0 | 79 | 39 |
| 27 | Kansas | 239 | -1 | 79 | 40 |
| 27 | Rhode Island | 239 | -1 | 81 | 40 |
| 27 | Delaware | 239 | -1 | 79 | 39 |
| 27 | Kentucky | 239 | -1 | 81 | 40 |
| 27 | Vermont | 239 | -1 | 81 | 39 |
| 27 | Hawaii | 239 | -1 | 78 | 40 |
| 27 | Maryland | 239 | -1 | 76 | 39 |
| 34 | Missouri | 238 | -2 | 80 | 39 |
| 34 | Georgia | 238 | -2 | 77 | 36 |
| 34 | Arizona | 238 | -2 | 77 | 37 |
| 37 | Illinois | 237 | -3 | 77 | 38 |
| 37 | Oklahoma | 237 | -3 | 80 | 35 |
| 37 | South Carolina | 237 | -3 | 77 | 36 |
| 37 | New York | 237 | -3 | 76 | 37 |
| 41 | Oregon | 236 | -4 | 75 | 37 |
| 41 | Michigan | 236 | -4 | 76 | 36 |
| 41 | Nevada | 236 | -4 | 77 | 34 |
| 44 | California | 235 | -5 | 75 | 34 |
| 44 | District of Columbia | 235 | -5 | 73 | 34 |
| 46 | Arkansas | 233 | -7 | 75 | 33 |
| 47 | Alaska | 232 | -8 | 73 | 33 |
| 48 | West Virginia | 231 | -9 | 74 | 30 |
| 48 | Louisiana | 231 | -9 | 73 | 29 |
| 48 | New Mexico | 231 | -9 | 72 | 29 |
| 51 | Alabama | 230 | -10 | 71 | 28 |
Source: National Assessment of Educational Progress