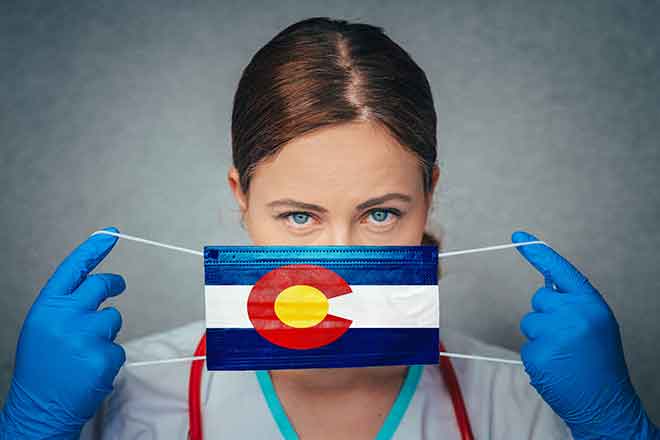 Published
Thursday, November 19, 2020
(The Center Square) - Several counties across Colorado are moving to stricter restrictions starting on Friday due to the surge in COVID-19 cases.
Gov. Jared Polis said during a Tuesday press briefing that 10 to 15 counties would enter the red or "severe risk" level soon, the fifth of sixth levels on the state's new COVID-19 dial framework.
Polis did not specify which counties would enter the "severe risk" level during the press briefing, but the Colorado Department of Public Health and Environment (CDPHE) announced later Tuesday that 15 counties would move to the red level on Friday.
The 15 counties are Adams, Arapahoe, Boulder, Broomfield, Clear Creek, Denver, Douglas, Jefferson, La Plata, Logan, Mesa, Morgan, Routt, Summit, and Washington, according to CDPHE.
"Most people are doing their part," Polis said on Tuesday, flanked by Denver Mayor Michael Hancock. "But the truth is, seeing this exponential growth, we clearly need a more drastic shift in behavior to further slow the transmission of the virus."
"Wear a mask, avoid in-person interactions with people from outside your household, and wash your hands frequently," CDPHE Executive Director Jill Hunsaker Ryan said in a separate statement. "If we are not careful now, we risk plunging into the deep end of the dial, where hospitals are not able to serve everyone who needs care, whether they are COVID-19 patients or other types of patients."
The new COVID-19 dial includes a purple level indicating an "extreme risk" and stay-at-home mandate.
"We are adding a new level to the dial-in response to out-of-control levels of COVID-19 transmission across the state," Hunsaker Ryan said. "Coloradans must take proactive steps to reduce the spread of the virus to protect their families and communities."
El Paso County and Pueblo County are currently at level orange, or "high risk."
Polis on Tuesday also called for a special legislative session to provide Coloradans with COVID-19 pandemic relief.