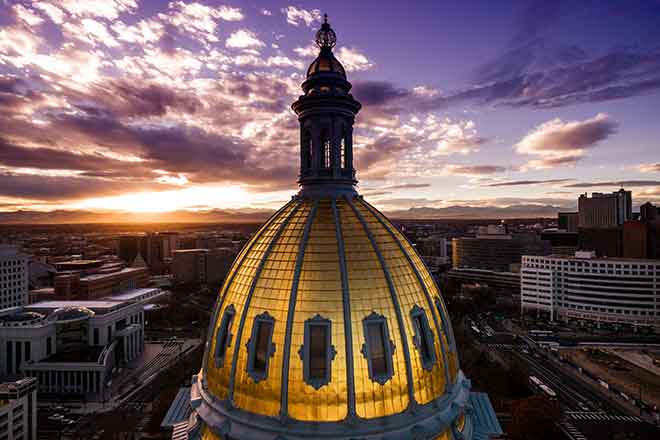 Published
Wednesday, March 17, 2021
(The Center Square) - Colorado's General Assembly leadership sent a letter to the state's Independent Redistricting Commission (IRC) on Monday urging it to "continue its work" despite an unfinished 2020 census.
The letter outlines a plan for IRC to continue its legislative redistricting process while the U.S. Census Bureau finalizes its census data. IRC can use the final census data to make any modifications to its new district map once the data is released in September, the plan says.
Signatories to the letter include Sens. Leroy Garcia, D-Pueblo, Steve Fenberg, D-Boulder, Chris Holbert, R-Parker, and Reps. Alec Garnett, D-Denver, Daneya Esgar, D-Pueblo, and Hugh McKean, R-Loveland.
"While release of the final census population data has been delayed, it is our belief that the Colorado Congressional Redistricting Commission and its staff can use the best available information to begin the preliminary map-drawing and public engagement processes and to increase the likelihood of meeting constitutional deadlines for final approval," they wrote.
IRC was created in 2018 after over 71% Colorado voters passed Amendments Y and Z, constitutional amendments that created the 12-member commission that is responsible for drawing Colorado's congressional district map.
This year, the commission will be responsible for drawing the boundaries for an eighth district. The commission must also complete public regional hearings on the preliminary plan by July 7 and adopt a final plan to be submitted to the Colorado Supreme Court for its consideration by Sept. 1.
According to the statute, commission members must include four Republicans, four Democrats, and four undeclared or independents.
The members of the commission are Jolie Brawner (U, CD-1), Martha Coleman (D, CD-2), Moussa Diawara (U, CD-5), Paula Espinoza (D, CD-4), Carly Hare (U, CD-4), Jason Kelly (R, CD-3), William Leone (R, CD-7), Danny Moore (R, CD-6), Lori Smith Schell (U, CD-3), JulieMarie Shepherd Macklin (R, CD-6), Simon Tafoya (D, CD-1), and Elizabeth Wilkes (D, CD-5).
Prior to the amendments, the process was handled by state lawmakers in the General Assembly using data from the federal census.
Even though redistricting occurs once every decade and has implications for electoral outcomes, signatories to the letter emphasized that the plan is being put forth by a bipartisan coalition.
"To find unanimity among lawmakers - particularly on an issue as politically contentious as redistricting -- was a testament to the fact that the citizens of Colorado would best determine the values of fairness, participation, and accountability," the letter continued.