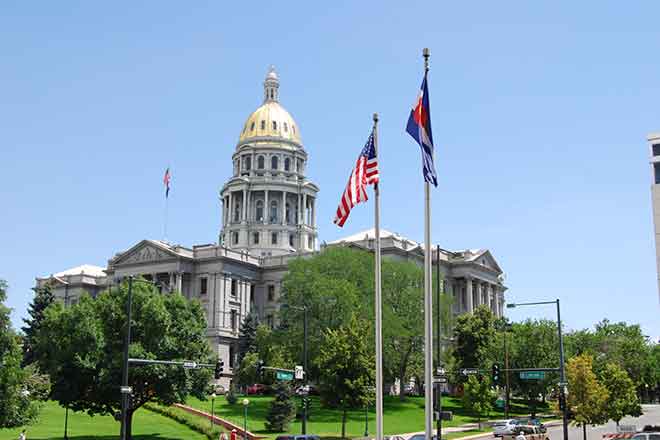 Published
Tuesday, August 9, 2022
(The Center Square) - Colorado's political leaders reacted to the U.S. Senate's passage of the Inflation Reduction Act over the weekend.
The bill includes more than $740 billion in new taxes and spending, and also seeks to address climate change, corporate taxation, and prescription drug prices. It passed out of the Senate on Sunday by a 50-50 margin with Vice President Kamala Harris casting the tie-breaking vote.
The Inflation Reduction Act next heads to the U.S. House of Representatives to pass amendments that were made in the Senate.
Sen. Michael Bennet, D-Colo., hailed the bill's passage for elevating the needs of "the American people" over special interests.
"It will lower costs for hardworking Colorado families at the pharmacy, at the gas pump, and on their monthly energy bills and insurance premiums," Bennet said in a statement. "On top of that, it will start to build a fairer tax code, put us on the path to energy independence, and help us lead the fight against climate change."
State Sen. Brittany Pettersen, who's running for Colorado's 7th Congressional District, described the bill as "transformational" because of its impact on big businesses.
The bill creates a 15 percent minimum tax on corporations making at least $1 billion in revenue, which is estimated to bring in more than $300 billion in revenue.
The Tax Foundation, a nonpartisan think tank in Washington, D.C., estimated in a recent analysis that the legislation will "reduce long-run economic output by about 0.1 percent and eliminate about 30,000 full-time equivalent jobs."
"By reducing long-run economic growth, this bill may actually worsen inflation by constraining the productive capacity of the economy," the group said.
Colorado Republicans echoed that the legislation doesn't address inflation.
"It's shocking to me that during a recession, when Colorado families are struggling with high gas prices and record high inflation, that Michael Bennet and John Hickenlooper would vote to raise their taxes and support legislation that won't actually decrease inflation," Colorado GOP Chairwoman Kristi Burton Brown said in a statement.
Joe O'Dea, a construction executive who is running against Bennet for his Senate seat, said the bill amounts to a "tax on working Americans while the economy is in a recession."
"We need to bring manufacturing back to the United States and reduce taxes right now," O'Dea said in a statement. "Joe Biden and Chuck Schumer's extreme agenda flies in the face of common sense and Michael Bennet is their rubber-stamp in the Senate."