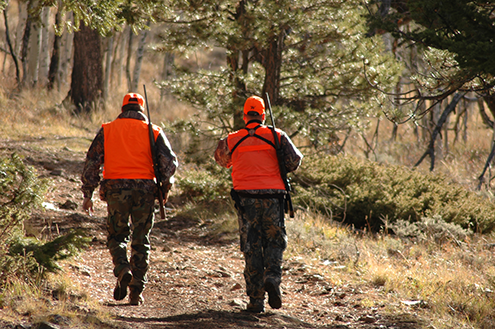 Published
Thursday, October 22, 2020
(The Center Square) - Colorado Parks and Wildlife (CPW) announced this week it is offering refunds to second-season rifle hunters with deer or elk tags in Boulder, Gilpin, and Clear Creek Counties because wildfires have forced the U.S. Forest Service (USFS) to close two of the state's most popular hunting grounds, the Arapaho and Roosevelt National Forests.
Hunters with tags in Game Management Units (GMUs) 29, 38, and 39 will be affected by the closures, CPW said Tuesday. CPW has already issued refunds for licenses in GMUs 6, 7, 9, 19 and 20 along with S1 and S40.
"We are working closely with the Forest Service and will continue to monitor the situation and prepare for potential impacts to other seasons," CPW's Northeast Deputy Region Manager Kristin Cannon said in a statement. "These are unprecedented times and we ask that hunters do their part to observe emergency closures and other restrictions."
The USFS and U.S. Bureau of Land Management also issued closures affecting federal land in Jefferson and Larimer Counties. The agencies said they will re-evaluate their decisions to close national forest lands daily.
Forest Supervisor Monte Williams said he remains concerned at the rapid growth of the nearby fires.
"The number of large fires and extreme fire behavior we are seeing on our Forests this year is historic," Williams said in a statement. "These temporary closures are necessary to protect the public and our firefighters, and we will keep them in place until conditions improve and we are confident that the risk of new fire starts has decreased."
According to data from the Rocky Mountain Coordination Center, there are 17 wildfires burning across Colorado that have eclipsed 100 acres in size. Nearly 442,000 acres of land are currently being affected by the fires.
The Cameron Peak Fire in Larimer County, which is the largest wildfire in state history, was 52% contained as of Wednesday. Firefighters credit high winds and an unseasonably dry summer for the spread of the fire. No other current fire has reached 20% containment yet.
Areas not included in the closures have existing fire bans in place. CPW said most of the western half of Colorado is under a Stage II fire ban, meaning no camping or warming fires are allowed.
Law enforcement agencies have been instructed to take a zero-tolerance policy toward fires and will cite those in violation of the ban.