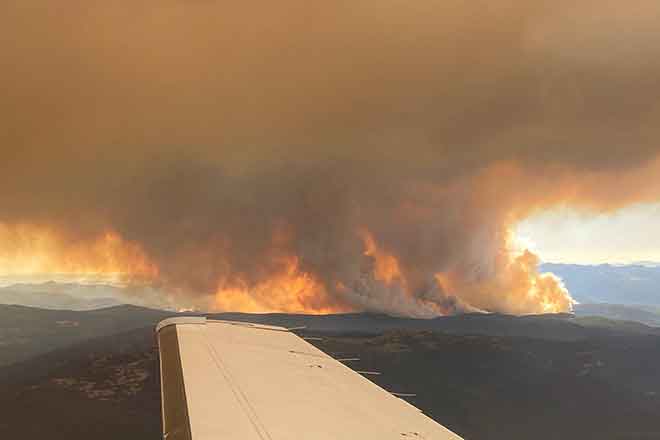 Published
Friday, October 16, 2020
(The Center Square) -- The Cameron Peak Fire reached over 167,000 acres in size this week, surpassing the Pine Gulch Fire from earlier this summer as the largest wildfire in Colorado's history.
The Cameron Peak fire has cost over $84.1 million to fight, according to the latest data from National Interagency Coordination Center. Over 1100 personnel have used over 79 fire trucks and 15 helicopters to contain the fire. The center said 100 structures have been lost in the wildfire.
Gov. Jared Polis tweeted his support Wednesday for local firefighters who have worked to contain 56% of the blaze so far.
"All Colorado and the world cheer on our brave firefighters in their efforts to protect population centers and contain the fire," he said. Polis on Thursday extended an executive order that authorizes the Colorado National Guard to assist in wildfire response efforts statewide.
According to the U.S. Forest Service's website, 200 structural engines and associated overhead have been ordered and there are outstanding orders for additional crews.
The fire began on August 13 in the Arapaho and Roosevelt National Forests near Cameron Pass and Chambers Lake. The USFS says the cause is still unknown, but described the fire's behavior as "extreme," saying its "wind-driven runs and long-range spotting" threatens several communities.
The agency expects poor to moderate recoveries from firefighters on Friday as wind gusts are expected to eclipse 40 mph out of the west with low humidity. A Red Flag Warning is issued for the fire beginning at 11:00 a.m. Friday and will continue through 8:00 p.m. Saturday.
Several towns and recreation areas across Larimer County have been evacuated. However, Sheriff Justin Smith said he won't evacuate Estes Park, Loveland, or Fort Collins because the dry timber the fire feeds on isn't available for it outside these towns.
Recent estimates say over 600 people have been displaced by the fire.
The Red Cross is providing shelter for those in evacuation areas at hotels from Johnstown to Fort Collins, and at Cache La Poudre Middle School.
Shelter residents receive food, medical and mental health support, and other emergency services as needed.
Small animal shelter for companion pets up to small barnyard animals the size of a sheep or goat is available through the Larimer Humane Society. Those who need help evacuating large animals can request assistance from the Larimer County Sheriff's Office.