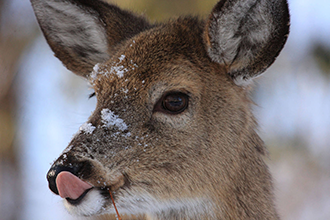 Published
Saturday, September 2, 2017
Colorado Parks and Wildlife has released a video which provides state and regional hunting condition updates for the 2017 Colorado big-game hunting season.
The nearly 19-minute long video states that hunting conditions will generally be good across the state, with strong elk, deer and antelope populations.
Colorado's elk herd is "the most abundant elk herd of anywhere in the country," according to Andy Holland, Big-Game Coordinator for CPW. Holland went on to state that Colorado also has one of the largest deer herds in the nation as well, thought the deer population has dropped from 600,000 in 2005 to 419,000 this year. Declines have been noted in western Colorado where the largest herds are located. CPW would prefer to have larger numbers. Mule deer populations in the central part of the state are doing well, while the population on the eastern plains is stable.
About half of all licensed deer hunters are successful each season.
The elk population has been stable in Colorado, with about 278,000 animals. Peak population was 305,000 in 2001, however the population has been intentionally reduced to the lower level to help ensure available habitat can support the animals. Over the past 12 years, CPW has been reducing the number of cow-elk licenses to help maintain population targets. Bull elk licenses are largely unaffected. The hunter success rate is near 20 percent.
Antelope on the eastern plains are said to be doing well, with an estimated population of 81,000 across the state - a record number.
The video also speaks to moose population before going in to detail about conditions across regions of Colorado, as well as providing tips to hunters.
Regional-based information for bear hunters is also included.
An electronic copy of the 2017 Colorado Big Game hunting guide is available here.