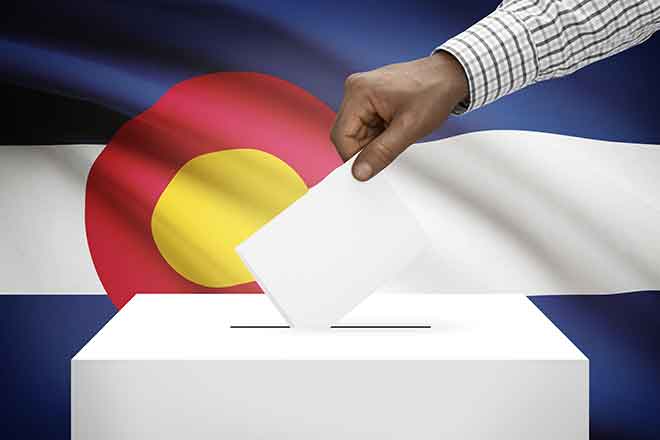 Published
Friday, September 20, 2019
By Derek Draplin | The Center Square
The Colorado General Assembly's Legislative Council has released its voter guide for 2019's ballot measures.
The guide, known as the "Blue Book," details Proposition CC and Proposition DD, which voters will decide on in November.
The guide is meant "to provide voters with the text, title, and a fair and impartial analysis of each initiated or referred constitutional amendment, law or question on the ballot."
The guide gives each proposal's language, what a "yes" or a "no" vote means, and arguments for and against each measure.
Proposition CC, approved by the legislature earlier this year, asks voters to allow state government to keep excess revenue typically refunded back to taxpayers under the Taxpayer's Bill of Rights (TABOR), a constitutional amendment passed by voters in 1992.
Another bill that passed requires that any excess revenue that's collected be split evenly for public schools, higher education and transportation funding.
The analysis estimates that state government would collect $310 million in fiscal year 2021 that it would be able to retain instead of being refunded to taxpayers, and $342 million in fiscal 2022.
That would mean an estimated $103 million for public schools, $103 million for higher education and $103 million for transportation in fiscal 2021. In fiscal 2022, that funding would go up to $114 million for each.
If the proposition doesn't pass, based on the estimates of excess revenue collected, the analysis says single-filer taxpayers would receive refunds ranging from $26 to $79 in 2020 and $30 to $90 in 2021.
Proposition DD asks voters to legalize sports betting and allow state government to regulate and tax the industry.
If approved, the measure would mean a 10 percent tax on betting proceeds made by casinos. State government would be allowed to collect a maximum $29 million in tax revenues, but the analysis estimates that around $16 million a year in tax revenue would be collected in each of the first five years after legalization.
"As the $29 million revenue estimate is based off of a mature sports betting market, sports betting tax revenue may be lower during the first years of implementation," fiscal notes for the blue book says.
Sports betting would be regulated and managed by the Colorado Division of Gaming and the Colorado Limited Gaming Control Commission, which currently oversee casinos in the state.
Most of the revenues generated would fund water projects in the state, and a projected $130,000 would go toward gambling addiction services.
Both propositions will be decided by voters on Nov. 5.