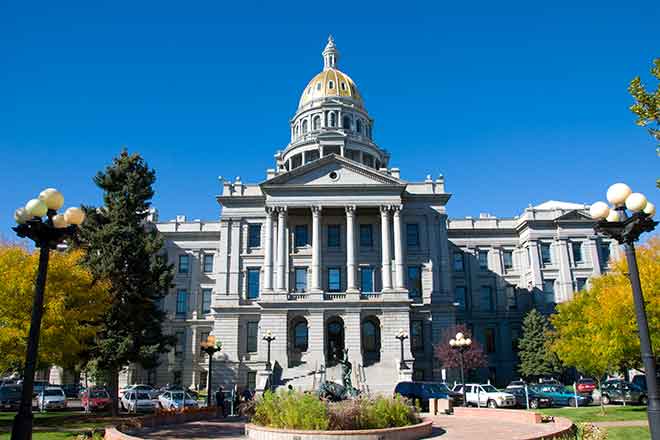 Published
Thursday, January 13, 2022
(The Center Square) - Colorado Republicans rolled out their legislative agenda on the first day of the 2022 session, which includes over 40 bills.
The party's leaders said Wednesday they will focus on rising crime, the state's unaffordable cost of living, and its "failing" public school system. They plan to introduce 44 bills to address these issues during the 73rd General Assembly session.
"This legislative package establishes our priorities for this session - the same priorities of most Coloradans," said Senate Minority Leader Chris Holbert, R-Parker. "Our state has become unaffordable, crime is spiking, and our government schools are in absolute disarray. It's time to think outside the box, get creative, and find real solutions for the people of Colorado who are struggling."
One bill that Holbert said will immediately impact Coloradans seeks to exempt all food from the state's sales tax. The bill is sponsored by House Minority Leader Hugh McKean, R-Loveland, and Sen. Dennis Hisey, R-Colorado Springs.
According to the latest consumer data from the Bureau of Labor Statistics, inflation has risen 7 percent nationwide over the last year, with food prices in the West region rising by as much as 10.5 percent.
To help alleviate some of the pressures from the state's low housing stock, Rep. Dan Woog, R-Erie, and Sen. Rob Woodward, R-Loveland, are introducing a bill that will create tax deductions for renters who paid their rent on time and landlords who were not paid rent while Colorado's eviction moratorium was in place.
If passed, the deduction would be available to individual renters who earn less than $40,000 per year or married couples with taxable income up to $75,000 jointly. It includes a 100 percent deduction for rent paid up to $17,500 per year.
Another bill Republicans plan to introduce would incentivize seniors to open up their homes to renters. The bill is sponsored by Sen. Paul Lundeen, R-Monument, and seeks to create a peer-to-peer home sharing market to "increase income for seniors" while decreasing housing costs for renters.
"Coloradans are no longer able to ignore the stark realities of skyrocketing crime and the drastic increase in the cost of living that Democrat policies have put on the state," McKean said.
Republicans also plan to introduce a spate of bills aimed at reducing or eliminating certain taxes and fees for Coloradans. Sen. Ray Scott, R-Grand Junction, plans to introduce legislation alongside Rep. Woog to repeal parts of Senate Bill 21-260 that imposed new fees on Colorado taxpayers.
McKean is introducing a bill aimed at making the Colorado Healthcare Affordability and Sustainability Fee more transparent. According to the bill, everyone who stays at a hospital is charged this fee, though it rarely shows up on invoices. Last year, Colorado collected more than $1 billion from the fee, the bill says.
Colorado Democrats, who control both chambers of the General Assembly again this session, outlined their legislative priorities Monday, which also include addressing fees, crime, and affordable housing.