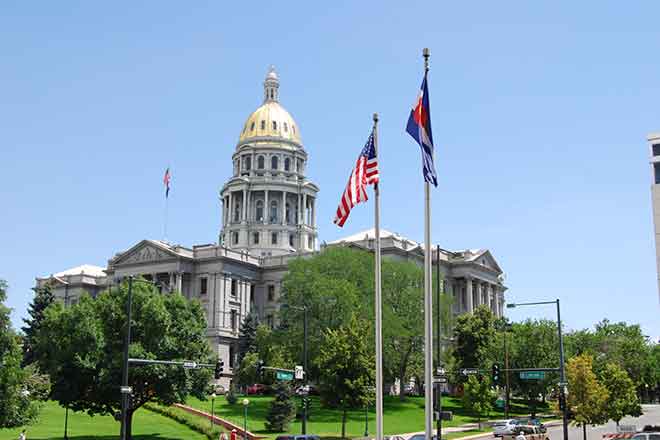 Published
Tuesday, January 11, 2022
(The Center Square) - Colorado Governor Jared Polis and Democratic lawmakers gathered outside the state Capitol on Monday to outline their priorities for the upcoming legislative session.
The Democratic leadership said some of the priorities this session, which begins on Wednesday, include reducing fees, addressing crime, expanding access to early childhood education, and increasing affordable housing.
"Once again, we are called to meet the need of the moment," Polis said. "Though we are seeing our economy grow stronger, many Coloradans are hurting and need help with costs going up faster than their income. So, in the weeks and months ahead, we are committed to saving Coloradans money and cutting costs."
According to the latest consumer price data from the Bureau of Labor Statistics, inflation for all items hit 6.5 percent on an annualized basis in the western region in November compared to the national average of 6.8 percent.
To help Coloradans address increased costs, lawmakers are proposing a series of fee reductions for business and professional licenses, as well as delayed or reduced fees for road usage, vehicle registrations, and driver's license renewals.
The fee reductions include reducing the tax burden shouldered by businesses from payroll and unemployment insurance taxes, Polis said. The legislation will also build on laws passed during last year's session that cut taxes for some Coloradans.
The lawmakers also said they plan to invest more than $1 billion to both bolster affordable housing and address Colorado's increasing crime rates.
"For the last two years, Coloradans have endured some extremely tough challenges and circumstances," Senate President Leroy Garcia, D-Pueblo, said. "In that time, we've made real progress in pursuit of building a stronger economy and a more resilient Colorado."
Garcia said lawmakers plan to partner with local governments to combine their expertise and the General Assembly's resources to address crime at the local level.
A recent economic analysis of crime in Colorado found it cost the state approximately $27 billion last year.
Garcia added that the state's shortage of affordable housing is only making the situation worse.
To that end, the Affordable Housing Task Force, a bipartisan interim committee, finalized its plans last week to spend more than $450 million in federal funding to help local governments address their housing needs.
"We responsibly led Colorado through this pandemic, helping to save many lives through smart public health measures and smart investments to boost our economy," House Speaker Alec Garnett, D-Denver, said. "This session we will redouble our efforts to save Coloradans money."
Colorado Republicans will announce over 40 bills as part of their 2022 legislative agenda on Wednesday.