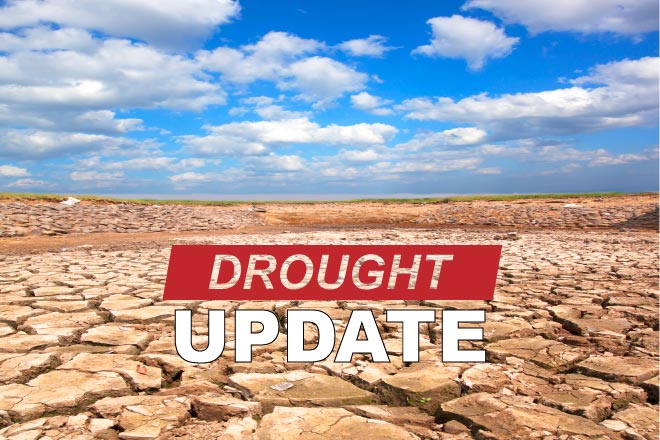 Published
Friday, February 15, 2019
Recent snow - which continues this weekend - contributed to significant improvements in drought conditions for southwest Colorado over the past week.
Exceptional drought, touching parts of nine counties, largely gave way to extreme conditions. Previously, all of San Juan County, along with parts of Ouray, San Miguel, Dolores, Montezuma, La Plata, Hinsdale, Mineral and Archuleta counties were in extreme conditions. Exceptional drought had even expanded in Archuleta County during the previous reporting period.
This week, only a small portion of Archuleta remains in the exceptional category - the worst level of drought. Precipitation has been ahead of typical conditions for the week in most of western and central Colorado, as well as parts of southern Wyoming according to the National Drought Mitigation Center.
Severe drought retreated from most of southern Routt County, along with western Rio Blanco and northwest Garfield counties, leaving behind moderate conditions.
In northern Delta and Gunnison counties, extreme conditions were replaced with severe drought.
The remainder of Colorado was unchanged in the latest report.
Overall, eight percent of the state was drought-free, while 25 percent was abnormally dry, both stable versus the preceding week. Moderate conditions covered 27 percent of Colorado, up from 26. Severe drought dropped from 19 percent to 18. Exceptional drought increased to 22 percent from 19, while exceptional conditions fell from three percent to near zero.
One year ago, nine percent of Colorado was drought-free, while 20 percent was abnormally dry. Moderate drought impacted 38 percent of the state, while the remaining 34 percent was experiencing severe conditions.
Colorado river basins remain in good condition, with most staying at or above 100 percent of the media snow water equivalent - the measure of water in the snow pack - for this time of year. The exception was the Upper Rio Grande basin, which fell to 98 percent to 100 from the February 14 report. The Arkansas basin remains the strongest at 118 percent of median, dropping from 122 percent on February 10. Statewide, basins were at 108 percent of median, down from 109.
Drought categories include (ranked from least to most severe) abnormally dry, moderate, severe, extreme and exceptional drought.
Drought maps courtesy of the National Drought Mitigation Center. Snow water Equivalent map courtesy of the United States Department of Agriculture - Natural Resources Conservation Service.
Colorado Drought by the Numbers

Week

Date

None

D0

D1

D2

D3

D4

Current

2/12/19

8

25

27

18

22

0

Last Week

2/5/19

8

25

26

19

19

3

3 Months Ago

11/13/18

17

17

11

21

21

13

Start of Calendar Year

1/1/19

18

16

11

28

16

11

Start of Water Year

9/25/18

14

14

8

16

32

16

One Year Ago

2/13/18

9

20

38

34

0

0