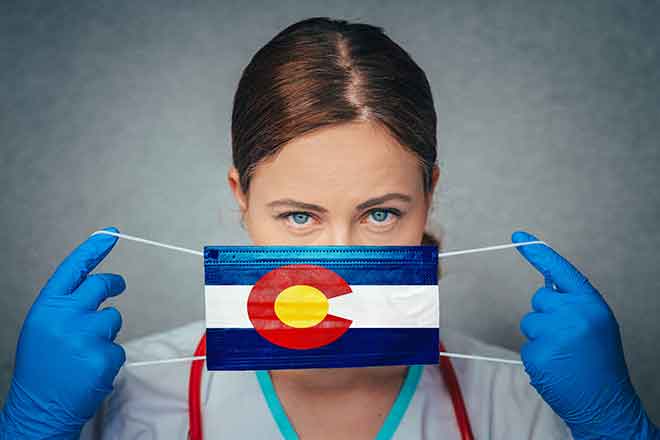 Published
Wednesday, December 9, 2020
(The Center Square) - Colorado's COVID-19 response has reached a tenuous point where any further action is predicated on the delivery of vaccines and the state's distribution infrastructure, state health officials said Wednesday.
"Deploying this vaccine is the great challenge to public health and response to this pandemic," said Scott Bookman, the Colorado Department of Public Health and Environment's (CDPHE) incident response commander.
To that end, Phase 1 of CDPHE's vaccination plan will involve high-to-moderate-risk health care workers and individuals. Phase 2 consists of higher-risk individuals over the age of 65 and essential workers. The general public will be vaccinated during Phase 3, which is expected to begin in the summer 2021.
CDPHE set its vaccination priority using two criteria: saving the most lives and ending the pandemic as quickly as possible.
Bookman said he expects the process to take months when enough vaccines are available. So far, Colorado has ordered 46,800 doses of the Pfizer vaccine on December 4. CDPHE plans to order 95,600 doses of the Moderna vaccine by the end of the week.
"These vaccines are more effective than the flu vaccine, and have an efficacy comparable to the measles vaccine," he added.
While both vaccines have not yet been approved by the Food and Drug Administration, CDPHE expects the agency to sign emergency use authorizations no later than December 14. Both Pfizer and Moderna have promised to ship the vaccines within 24 hours of purchase.
The governor's Advisory Committee on Immunization Practices plans to hold meetings on December 11 and 13 to discuss best distribution practices.
Colorado has nine distribution centers where the Pfizer vaccine will be stored at ultra-low temperatures before going to local providers. Each county has been assigned at least one provider. Counties like Arapahoe, Denver, and El Paso have multiple providers.
On Tuesday, state health officials conducted a dress rehearsal of its vaccine distribution plan in the high mountains, an area of the state that was hit hardest by the pandemic in March. Local public health officials in Vail were very pleased with the results, but do not want Coloradans getting complacent.
"While we're all excited about the potential that the vaccines bring, we have to continue to remain vigilant," Will Cook, CEO of Vail Health, told CPR. "We still are in the middle of dealing with a pandemic."
Since March, Colorado has steadily increased its testing kit and supply of personal protective equipment. Daily testing has increased 160 to over 55,000 per day. The state also has enough PPE and testing kits to last through the next calendar year.
Meanwhile, Colorado's latest COVID-19 modeling data shows an increasing transmission rate with 1 in 41 Coloradans currently infected with the virus. State hospital bed capacity could max out within the next two weeks.