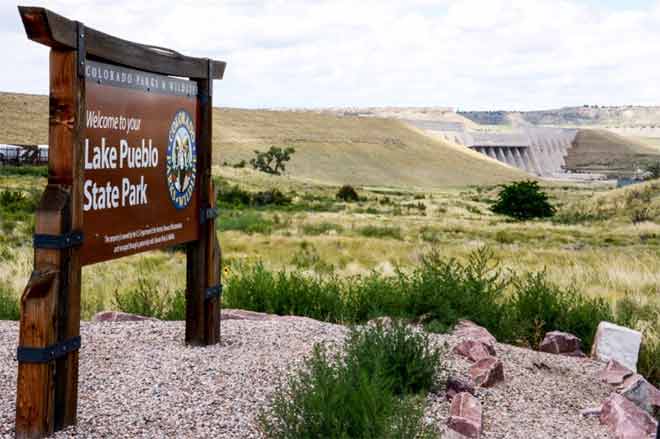 Published
Wednesday, April 24, 2019

The public is invited to review and comment on a plan to guide the creation and management of trails at Colorado Parks and Wildlife's Lake Pueblo State Park.
The plan is posted online and will be available at an open house scheduled at 5:00 p.m., Monday, April 29, at the Lake Pueblo State Park Visitor Center, 640 Pueblo Reservoir Road, Pueblo.
The Lake Pueblo State Park Trail Management Plan has several goals including documenting, assessing and recommending final formalization of the park's existing, undesignated gravel trails, called "natural surface trails," Natural-surface trails developed over the years from social trails. They were not properly planned or approved through the strict Environmental Assessment (EA) process required for federally owned property.
CPW staff has worked years to inventory, assess and analyze natural surface trails. CPW staff also took inventory of the park's natural and cultural resources. And it has assessed the impact existing trails are having on the resources.
The trail management plan includes recommendations to be used in an EA to be conducted by the park's owner, the U.S. Bureau of Reclamation. This EA will guide the Bureau's future Resource Management Planning process for Lake Pueblo and eventually will result in a sustainable, designated, natural-surface trail system at the park as well as other park improvements.
Existing paved trails also are addressed in the plan, as well as envisioned future trails to the adjacent state-owned Chain of Lakes property.
The public is encouraged to review the plan and provide feedback by April 29 via email at Lake.Pueblo.Park@State.CO.US or at the April 29 Open House at the park. Only written comments, delivered by via email, the U.S. Postal Service or in person, will become a part of the public record of the document.
WHAT: Lake Pueblo State Park Trail Plan Open House
WHERE: Lake Pueblo State Park Visitor Center auditorium, 640 Pueblo Reservoir Road, Pueblo, 81005
WHEN: 5:00-7:00 p.m., Monday, April 29